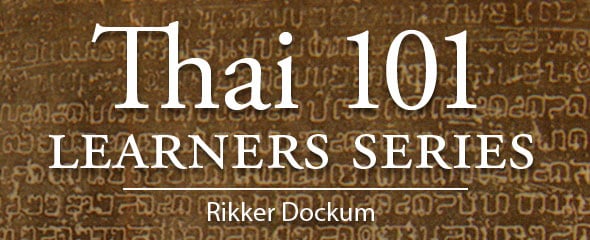 Thai 101 and book learning…
There's a whole market for books on how to learn Thai. A given book might promise you that you'll learn Thai in 24 hours, that you'll speak like a native – and that you'll simultaneously cure cancer and world hunger in the process.
Chances are, you own at least one book like this. If' you're anything like me, the act of buying the book gets you off the hook of actually reading it for at least a few months.
There are courses you can take at language schools and universities, ranging from beginning to advanced. Private tutors are a dime a dozen, though that's not their actual rate. If you're lucky, you work for a company that will fork out for some tuition.
One or more of these options may be right for you, but in the age of the Internet there's a lot you can do with nary a baht.
Thai 101 and typing…
At the top of the list of my recommended strategies is to learn to type in Thai. Besides the fact that it's easier to push a button than a pencil, typing will open up learning opportunities. If you don't own a computer, just head to your local Internet shop.
There is no special software you need to be able to type Thai on a modern computer. This functionality is built in. You'll just need to set things up to be able to switch between Thai and English on your keyboard – the magic button is the one left of the key for the number "1" and is sensibly marked T/E on most keyboards sold in Thailand.
The process is the same for adding Thai as it is for adding any language. Just type in the phrase "input languages" in a search engine box and click on the first hit that comes up.
If you're a Mac user, just add the word Mac in the search engine box.
Once you're ready to go with input, you need to learn to type Thai. If this is out of your league at the moment, don't sweat it. But if you're up for the challenge, there's a free program called, unsurprisingly, Thai Typing Tutor (no longer online). I used it, and you can't beat the price.
Thai 101 and dictionaries…
A good dictionary is essential, but any old one is often adequate. There are a number of free Internet dictionaries that will get you started. To name just a couple:
thai-language.com is one of the earliest websites of its kind. It has many useful features, not the least of which is its dictionary of some 30,000 entries.
thai2english.com is a relative newcomer, but its claim to fame is that you can paste in whole chunks of Thai and will feed you back a Romanized version with word-for-word translation. It's not perfect, but it's pretty darn good, especially if you're not sure if that random Thai email you got is important, or just trying to sell you some Viagra.
Thai 101 and discussion forums…
There are quite a lot of people out there learning Thai. For me, this was a revelation. At the time, after two years of learning on my own, I was delighted to discover some peers. Topics run the gamut from how to spell your name in Thai for that sick tattoo you're gonna get, to deciphering and translating entire passages of text.
In addition to a discussion forum at thai-language.com, there are two other major players: thailandqa.com and thaivisa.com have quite active Thai language forums.
Thai 101 and other resources…
There are a number of other good sites, including learningthai.com (offline for now), and its more advanced sister-site spokenthai.com (offline for now), which features podcasts and videos. It's entirely possible to go from ABC to expert with the help of what's out there on the web.
Rikker Dockum
Thai 101
The Thai 101 Learners Series first appeared in the Phuket Gazette '08
@ Copyright 2008-2009 Rikker Dockum