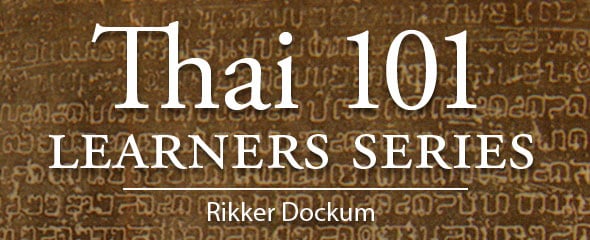 A farang by any other name…
Any white foreigner who spends even a few days in Thailand will learn at least one Thai word: ฝรั่ง /farang/. It's being used by Thais to refer to them – whether they're aware of it or not.
Farang is one of the first words that will stand out from the jumble of Thai constantly spoken on all sides. People are most likely to be saying things like, "Come take this farang's order, my English is terrible," or "Help! I can't make head nor tail of what the farang wants."
If you're in a place foreigners don't normally frequent, you're likely to hear it randomly shouted at your very presence, by staring children and adults alike.
For the most part, it's used harmlessly. Some people take it as an insult, but I don't. If somebody uses it like it's my name, I might let them know. Thais generally mean no harm by the word, even if they tend to overuse it.
The etymology behind the word farang is relatively clear, but some persistent folk etymologies muddy the waters. I don't want to get too much into tracing the history of the word right now, though.

Advertisement
The short version: farang doesn't come from the Thai word ฝรั่งเศษ /farangseet/ "Français", since its use predates the arrival of caucasians in Thailand; nor does it come from the fact that white people have skin like the inside of a guava.
Likely cognates of farang are found in many languages and many countries, stretching from the Middle East out to Oceania. It was almost certainly spread by Persian traders across mainland Asia many centuries ago. Such traders arrived in Siam by the 16th century, bringing along with their wares the word farangi, meaning Westerner or white man, from the Arabic word "faranji", and ultimately referring to the Germanic tribe the Franks, dating from the crusades, perhaps as early as the turn of the first millennium, AD.
Yes, that really is the short version.
The so-called farangs have shared their appellation with many things in Thai. The guava, known as ฝรั่ง /farang/ in Thai, is actually native to the Americas and was most likely introduced to Southeast Asia by the Portuguese.
In the early 19th century, John Crawfurd wrote of a fruit the Thais called "banana of the Franks (Kloa-Farang)", or กล้วย ฝรั่ง /kluai farang/.
So the fruit gets its name from the foreigners who introduced it, and not the other way around.
It's not just guavas, though. Many of the things introduced by westerners are called "X farang", which is to say, "the farang version of X". Common ones include the following:
มัน ฝรั่ง /man farang/ "potato".
มัน /man/ is a general word for tubers, thus potatoes are "farang tubers".
หมาก ฝรั่ง /maak farang/ "chewing gum".
หมาก้ /maak/ is betel, thus gum is "farang betel".
หน่อ ไม้ ฝรั่ง /naw maai farang/ "asparagus".
หน่อ ยไม้ /naw maai/ are bamboo shoots, thus asparagus is "farang bamboo shoots".
ผัก ชี ฝรั่ง /phak chii farang/ "parsley".
ผักชี /phak chii/ is cilantro/coriander, thus parsely is "farang cilantro".
In addition to asparagus and potatoes, there are several more plant species not native to Southeast Asia that are known as the "farang" version of some other common plant. These include the following:
มะกอก ฝรั่ง /makok farang/ "A western-style olive", as opposed to the larger Thai 'makok'.
Incidentally, the name of the city of Bangkok is believed to derive from มะกอก /makok/.
แค ฝรั่ง /khae farang/ "Gliricidia sepium", a medium-size leguminous tree.
ตะขบ ฝรั่ง /takhop farang/, kind of flowering plant.
ผัก บุ้ง ฝรั่ง /phak boong farang/ "Morning Glory", as opposed to the aquatic version (Ipomoea aquatica) used in the popular Thai dish ผัดผัก บุ้ง ไฟ แดง /phak boong fai daeng/ "stir-fried morning glory with oyster sauce".
ประทัด ฝรั่ง /prathad farang/ "a shrub or small tree" native to Brazil.
แพงพวย ฝรั่ง /phaengphuai farang/ "The Water Primrose", a herbaceous perennial plant native to the Americas and found on the margins of lakes and ponds.
Rikker Dockum
Thai 101
The Thai 101 Learners Series first appeared in the Phuket Gazette '08
@ Copyright 2008-2009 Rikker Dockum