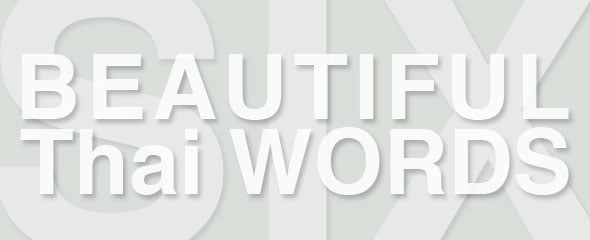 What do you think of these beautiful Thai words?…
Several times a month I jump into a taxi to roam around Thailand with a Thai friend. There is usually a plan, but we always end up goodness knows where. And after I let go of my western penchant for sticking to the plan, "goodness knows where" became fun.
On trips around Thailand I take a special black Moleskin to jot down what interests me. Sometimes it's the name of a Wat or town. Sometimes a Thai word or phrase. But oftentimes I'm taking down notes for future posts on WLT.
On one trip I asked Khun Phairo and KP (the taxi driver) what their most beautiful Thai words were. They were both dumbfounded at my question and couldn't come up with a single one.
Going at it from another angle, I then asked which Thai words sounded good tripping off their tongues. Thai words (or word combos even) they enjoyed saying.
Bingo. We were then on a roll with words for lovers, words used with kids, and words for fun.
And excellent for us, all can be found on YouTube. And because the YouTube files take up loads of room, I'm posting this section separate from a coming post: The most beautiful words in the Thai language.
สบายๆ /sabai sabai/…
Everyone who knows Thai knows สบายๆ /sabai sabai/. Sabai Sabai means "happy, comfortable, feeling fine, take it easy". When someone asks you "sabai dee mai?" then you reply "sabai sabai" or "mai sabai". And if you are panicking, someone might comfort you by saying "sabai sabai".
The song of the same name is by ธงไชย แมคอินไตย์ Thongchai "Bird" McIntyre. The original song came out in 1987 with later versions being cut by Bird and Sek Loso.
Btw: In Lao they say สบาย /sabai/ instead of สวัสดี /sà-wàt-dee/ or หวัดดี /wàt-dee/.
เป็นไปไม่ได้ /bpen bpai mâi dâai/…
เป็นไปไม่ได้ /bpen bpai mâi dâai/ means "it's impossible" in Thai. Perry Como recorded the hit song It's Impossible back in 1970 but this version is Thailand's very own. It's not a translation of the American song, but a love song of the same name. It's sung by เศรษฐา (Sayt-Taa), who is wishing for the impossible: ten faces, ten hands, etc.
จิ๊บจ๊อย /jíp-jói/…
จิ๊บจ๊อย /jíp-jói/ means "it's a little thing, not a big deal". จิ๊บจ๊อย is similar to ไม่เป็นไร /mâi bpen rai/ "it's nothing, never mind". The Thai song จิ๊บจ๊อย /jíp-jói/ is by flamboyant Country singer ดาว มยุรีย์ (Dao Mayuree). The lyrics start off with: "It's not a big deal if we break up…"
หน่อมแน้ม /nòm-náem/…
หน่อมแน้ม /nòm-náem/ is slang for being "childish, innocent, naïve". The cute Thai song หน่อมแน้มไปหน่อย /nòm-náem bpai nòi/ is sang by บิลลี่ โอแกน /bin-lêe oh-gaen/ (Billy XOXO).
เรื่อยๆ /rêuay rêuay/…
เรื่อยๆ /rêuay rêuay/ means "let it go, chill out". The gist of the song is, "we'll keep going like this until we get old". Love it (I've added this song to my Thai songs to learn list).
จุ๊บๆ /júp júp/…
Thais use จุ๊บๆ /júp júp/ for the sound that a kiss makes. You can say "kiss kiss" to your cat, your mom, your lover, your baby or spouse. But not your boss.
รักนะจุ๊บๆ /rák ná júp júp/ is "I love you, kiss kiss!"