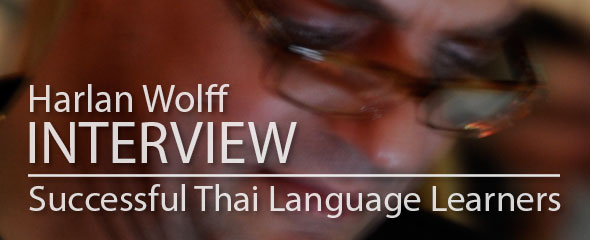 Interviewing Successful Thai Language Learners…
Name: Harlan Wolff
Nationality: British
Age range: 50-60
Sex: Male
Location: Bangkok
Profession: Private Investigation and Author
Website/blog: Harlan Wolff
What is your Thai level?
Fluent spoken Thai.
Are you Intermediate/Advanced/Fluent or a combo?
Fluent.
Do you speak more street Thai, Issan Thai, or professional Thai?
Professional Thai.
What were your reasons for learning Thai?
The need to survive.
Do you live in Thailand? If so, when did you arrive?
I have lived here since 1977.
How long have you been a student of the Thai language?
From my arrival in 1977.
Did you learn Thai right away, or was it a many-pronged approach?
During the periods I lived and worked amongst Thais it came quickly. When I was living like a foreigner it stalled.
Did you stick to a regular study schedule?
No. My learning was not planned in that way. It was more about circumstances and need.
What Thai language learning methods did you try?
I jumped in.
Did one method stand out over all others?
Having a thick skin. Thais love to ridicule the beginner.
How soon did you tackle reading and writing Thai?
I didn't.
Did you find learning to read and write Thai difficult?
I didn't try.
What was your first 'ah hah!' moment?
When I turned the tables on somebody trying to laugh at me speaking Thai and everybody laughed at him instead.
How do you learn languages?
Like a small child. Hearing words and repeating them.
What are your strengths and weaknesses?
My strength was I mixed with senior people/my weakness is the older I get the less I seem to use it.
What is the biggest misconception for students learning Thai?
That the tones are a problem. Thai people don't consciously label the tone they are using they just know whether it sounds right or not.
Can you make your way around any other languages?
No.
Were you learning another language at the same time as Thai?
No.
What advice would you give to students of the Thai language?
Just dive in and don't be embarrassed.
How did you get into the PI trade?
Serendipity. People came to me when they had a problem and one day I printed a name card and started charging for it.
Besides learning the local lingo, what other skills did you need to learn as an expat PI?
It is essential to understand the society that you are operating within. Most people that attempted to do what I did didn't last long.
What was your Thai ability when you first started working as a PI in Thailand?
Fluent already.
As a PI, what specialised Thai vocabulary and phrases did you acquire?
Police and lawyer jargon and topical jokes.
What is your most memorable Thai language moment as a PI?
Being asked to help police on cases that were multi-cultural.
I am described as a PI because business requires a name. In reality I invented a role for myself. Cross-cultural troubleshooter is probably closer to the truth. There was some old fashioned gumshoe stuff over the years but not enough to give me sunburn.
Harlan Wolff
Harlan Wolff | Facebook: Author Harlan Wolff | twitter: @HarlanWolffBKK
The Series: Interviewing Successful Thai Language Learners…
If you are a successful Thai language learner and would like to share your experiences, please contact me. I'd love to hear from you.