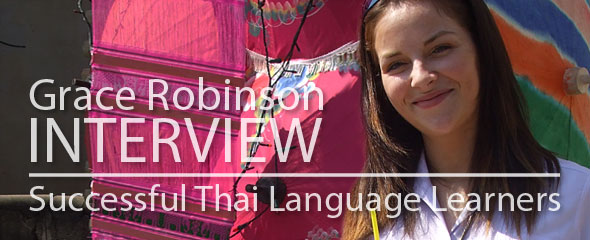 Interviewing Successful Thai Language Learners…
Name: Grace Robinson
Thai nickname: Luk Gate, ลูกเกด
Nationality: English/British
Age: 24
Sex: Female
Location: Bangkok
Profession: Postgraduate student
Website: graceinasia
What is your Thai level?
I'm not exactly sure, but I'd say it's around advanced intermediate.
Do you speak more street Thai, Issan Thai, or professional Thai?
I was taught Thai in an academic way so I have studied texts on Buddhism and politics in Thai and I do feel very comfortable speaking general conversational Thai, however street Thai or slang is still at times a mystery to me, so I am learning all the time!
What were your reasons for learning Thai?
After first traveling in Thailand when I was 18 and then returning the next year as an NGO working on the Thai/Burma border, I felt I had left a piece of my heart in Thailand and had big dreams to live in the country. I also wanted a degree from University, so when I discovered that there was a Thai and Southeast Asian studies BA at the University of Leeds, I was very happy to find that I could combine everything I wanted to do.
Do you live in Thailand? If so, when did you arrive?
Yes, I have recently moved to Thailand to live and carry out research. I was given a scholarship by the Royal Thai Embassy in London, to study a Masters by research. I am conducting a study on the theme of nostalgia in a Thai domestic tourism context.
How long have you been a student of the Thai language?
Probably for the last 6 years, but for the last 4 officially.
Did you learn Thai right away, or was it a many-pronged approach?
I learnt a few general words and phrases whilst living in Thailand, then went on to regular study of the language on my degree course. In which I studied at Chiang Mai University for one year, it was a really great experiencing life as a Thai student and living in the country is always the best way to learn a language.
Did you stick to a regular study schedule?
Yes, when I was studying, with regular tests and exams to keep you on your toes and so that progress could be monitored.
What Thai language learning methods did you try?
I studied Thai at the University of Leeds, UK, on a BA course; Thai and Southeast Asian Studies. The course teaches Thai from beginners' level and progresses to studying Thai at an academic level. We started learning the alphabet and how to formulate the correct tone using a 'magic key', which is a kind of mathematical equation the involving consonants and vowels of words. We went on to reading conversations and used role-play. After this we concentrated on reading newspaper articles and listening to news reports, in the final year we studied academic articles and books and did our own presentations in Thai on current world affairs. We constantly learnt new vocabulary and were tested on this weekly. Whilst language learning, we took in depth modules on Thai culture, history and politics, which enhanced and illuminated the language learning process. At home I listen to Thai music and watch films to practice my Thai, I believe that successful language learning should be fun and varied.
Did one method stand out over all others?
Being able to read and write with the Thai alphabet system is key to getting the correct pronunciation. Word association and drawing pictures also helped me!
How soon did you tackle reading and writing Thai?
The first thing I was taught was ก,ข etc from scratch, the same way Thai children are taught in primary school. This created the best foundation for authentic language learning, without using 'karaoke' Thai.
Did you find learning to read and write Thai difficult?
No, not particularly, what was more difficult was getting the right tones and sentence structure.
What was your first 'ah hah!' moment?
Being able to read menus and signs at Thai street food stalls, ordering in Thai and thinking this is well worth it!
How do you learn languages?
Practice! Boring but true. Chatting to friends, listening to the language in any form and surrounding yourself with anything vaguely related, things can be learnt even in the most banal situation, so go and dive in at the deep end, immersion is ultimate! Personally, I have benefitted from getting to know the culture at the same time, this is really crucial, as the two cannot be separated. You will find many connections between language and culture and this will really raise interest and pleasure from learning.
What are your strengths and weaknesses?
Weakness is definitely spelling in Thai and I also need to improve my typing. A strength is that I have built up confidence and try to speak even though it could be wrong.
What is the biggest misconception for students learning Thai?
Thinking it's going to be particularly difficult.
Can you make your way around any other languages?
I learnt Spanish at school although was never really in to it. I feel like the language learning part of my brain is like a sponge, which will only soak up one language at a time, when I try to remember Spanish now Thai just comes out!
Are you a computer programmer, or do you have programming experience?
No
Do you have a passion for music?
Oh yes, very eclectic.
Were you learning another language at the same time as Thai?
I am quite interested in learning words from neighboring countries especially Burma, where my Grandmother is from. So, I have always tried to bank some phrases where I can. Although, I prefer to concentrate on one language at once, that's enough for me!
What advice would you give to students of the Thai language?
Stick with it. Don't be shy. The most important this about learning a language is really wanting to do it in the first place, having the right intention and determination are essential.
Grace Robinson,
graceinasia
The Series: Interviewing Successful Thai Language Learners…
If you are a successful Thai language learner and would like to share your experiences, please contact me. I'd love to hear from you.