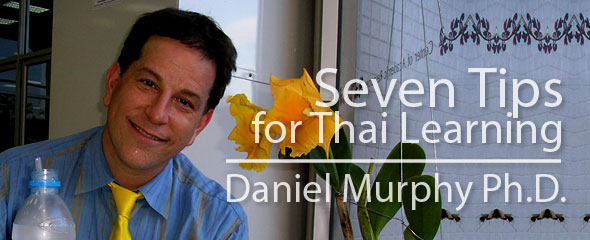 Tip Number 1: Take your time, enjoy your studies…
"Why does it have to be sooooooo hard?"
"Why does it have to take sooooooo long?"
Maybe we need a little attitude adjustment…? Maybe we need to listen more carefully…? Most of us do have nearly excellent hearing skills for normal conversational volume… BUT, most of us have very POOR LISTENING SKILLS for normal conversations… Just think of the last time you "nodded" your way through a conversation with a friend… But do we actually practice LISTENING???
Listening is the "hardest" part.
Get used to it.
Enjoy it.
LOVE IT.
GIVE yourself points for perfect listening scores.
Aim HIGH.
LISTEN AGAIN.
Play it again Sam.
Pud eek krang na krab?
Kawb khun mag krab!
Kaw tod na… Pud mai na krab?
Why is everyone so surprised that learning a new language is going to take you some time??? Such an attitude is really, really silly ~ if you think about it for any amount of time at all…
Come on! How long does it take for a young tike to learn English or their native language?
The Answer is: YEARS! So plan on putting some time in…
(Unless, of course, you are a super-genius listener and learner – 555)
Tip Number 2: Have fun – why be boring???…
Need I explain more?
Tip Number 3: Do it with others…
Socially mediated learning (See Lev Vygotsky)
Have FUN WITH FRIENDS – WHY BE BORING??? EEK KRANG – once again…
Tip Number 4: Explore different parts of your personality in your Thai learning (or any language learning)…
For example, do you have a Thai personality and a Farang personality???
How about different personas in your larger personality?
You are what you express… Do not limit yourself to "just one" way of expressing yourself…
Tip Number 5: Learn to play in your new language…
Tell jokes; play the "dting dtong"
Be "baa-baa baw-baw"
Act a little crazy; be childish; be adolescent AND be an adult!
Tip Number 6: Be creative, write songs, make up poems; be emotional in your learning…
Argue with yourself in Thai. Dream in Thai. Tell stories to yourself in Thai. Sing Thai songs. Do you know at least a couple of songs by Pi Bird?
This ain't all just "book learning" baby!
Paying attention
Is something to mention
When you're in dissension
Of your reality!
Be like a Buddha
And please use your noodle
Don't disagree with the
Sights that you see!
Your investigation
Stokes your imagination
Your appreciation
Gives a kinder reality!
© 2001-2009 Daniel Murphy
4/7/01, 4:44 am on Waisok, Buddha's Birthday
Tip Number 7: Makes lots of different kinds of friends…
Diversify! Sure BG, good, maw nuad, fine, students, good, neighbors EVEN BETTER… Be willing to make a fool of yourself, sometimes… Be a sport, have fun with it, mate!
LET GO OF YOUR EGO!!! Let GO of your MISCONCEPTIONS OF YOUR OWN LIMITATIONS!!! YES, that is RIGHT! LET GO OF YOUR misconception that you are doomed to failure…
Make friends with nice people… Yes, everyone wants to be respected and appreciated… Are your best friends and best Thai teachers loving and kind???
Yes, all of it can be done!
Daniel T. Murphy, Ph.D.
Facebook: Daniel Murphy