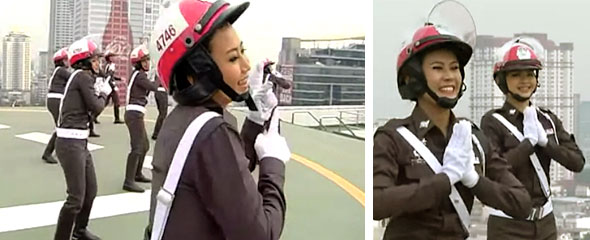 No Drink Walking or Talcum Powder…
In a few days the Songkran festivities will take over Thailand. In Bangkok, where I'm at, tourists flood in and a chunk of locals (mostly from up north) stream out.
Except for sampling Khao Chae (a first), my Songkran plans are not set. I might grab a taxi and drive around taking photos of the water fights, but that's about as energetic as I'll get this year. And for good reason.
Even with the rain it's blazing HOT this Songkran.
Thai roads seem even more deadly than usual.
At this time each year Thailand braces not just for the heat of Songkran but for the death tally due to careless drivers. That's the bad part. The good part [knock on wood] is that we don't have Red Shirt protests or floods to worry about.
But wait. We do have additional concerns and new rules. Oh joy.
Khao San ready for a splash: To provide safety for Songkran celebrants and tourists, 300 police officers and 150 volunteers will be deployed around the area. Security checkpoints will be set up to search for explosives and weapons.

As well, the sale and use of talcum powder are not allowed, and drinking alcohol while walking will be banned.

Mr Piyabutr also said he was confident that the recent bombings in the southern provinces would not affect the number of Songkran revellers or holiday sentiment in the capital.
Forget about the bombs in the south AND Bangkok for awhile… in Khao San (where I sometimes go), there's to be no talcum powder or walking while drinking? Strange combo. What about being drunk? Is drunk walking allowed?
Anyone game for testing it out?
The dancing traffic cops of Thailand…
To lighten the gloomy mood, Thailand created a massive traffic jam in Ratchaprasong (yup, where I shop) to bring us this cute Songkran video.
…police closed the Ratchaprasong intersection in central Bangkok on Friday morning to shoot a music video scene featuring a dance by 12 female traffic police officers. The video is part of a police campaign to reduce road accidents during the Songkran period.
Good luck to them. I'll be checking @191Thailand on twitter to see how this latest idea pans out. Fingers crossed it will have more success than the "Drink, Don't Drive" campaign.
Anyway… if you are interested in attending any of the Songkran festivities around Thailand, here's Richard Barrow's Schedule and Dates for Songkran 2012.