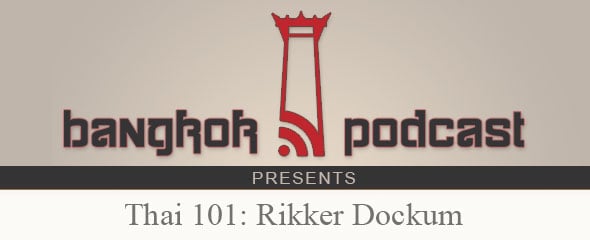 Rikker Dockum and the Bangkok Podcast…
May was a crazy month for Bangkokians. No doubt. And while some of us were busy twitching through the political scuffles, Greg Jorgensen of GregToDiffer.com and Anthony Joh of Thai-FAQ.com twigged it as an opportunity to create Bangkok Podcast.
Join Anthony and Greg every Sunday night as they discuss all the funny, serious, enjoyable, and just plain strange aspects of living in the Big Mango. From the stinky khlong taxis to the thumping nightclubs to the ridiculous amount of food on every street corner, we revel in living here.
But that's not why I'm featuring Bangkok Podcast today. This is…
…we are very happy to be talking to Rikker Dockum, a researcher and Thai language scholar, who will be joining us every month on the Bangkok Podcast.

Rather than standard 'word of the day' type lessons, Rikker will be chatting with us about the mysteries of the Thai language, tips for learning it, secrets to using it, and his experiences navigating a culture where fluency by a foreigner in the local language will likely be met with wide-eyed stares of anyone you meet.
Please don't miss Rikker's first appearance: Bangkok Podcast: Thai Language Series 1
I'm already ready for the second. For sure.
Rikker on WLT…
You can also find Rikker at: