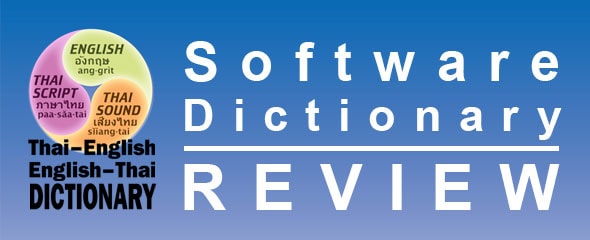 Paiboon's Thai-English dictionary just keeps getting better…
Being the book hound I am, when I first started learning Thai I bought every dictionary under my nose. Out of those, the dictionary found next to my sofa was the now battered and soiled Thai–English English–Thai Dictionary, by Benjawan Poomsan Becker. It offered the ability to search via English, Thai script, and transliteration. It also highlighted classifiers, a must for learning Thai. Another selling point: It is small enough to shove in my purse, but big enough to contain needed words.
In 2003, Chris Pirazzi and Benjawan Poomsan Becker collaborated on a Palm OS version of her dictionary. I don't have a Palm, so I had to pass.
In 2009, Chris and Benjawan worked together on an update of the hardcopy dictionary to give us the chunkier and just as sweet Three-Way Thai–English English–Thai Dictionary. In full confidence, I retired my tattered favourite and switched up.
Then early this year, Chris asked if I would please help test their new baby, a super-sized software version of the dictionary. Although I agreed, life intervened to make me totally useless as a beta tester (apologies again Chris). While I didn't have time to properly test drive their software, I did send in a few opinions or two.
Better late than never, I'm doing that run through now. And, I'm doing it my way. On a Mac.
Paiboon's Thai-English software dictionary for Macs…
At present, Chris and Benjawan's software dictionary is for PC only, but we all know that PC emulators work fine on Macs. When I played around with early versions of the software dictionary, I used an old version of Parallels. Parallels worked as it should, but I was not satisfied with the overly PC experience and would squirm every time. But as soon as I upgraded to Parallels Desktop 5, it was WOW! I'm home again!
And I'm here to tell you that the combination of the latest Parallels and the new Three-Way Talking Thai Dictionary works perfectly fine. Seamless even. I can whoosh round on my Mac, dip into the dictionary, and whoosh right back. Easy.
So if you are on a Mac and concerned, don't be.
Overview of the Three-Way Thai–English Talking Dictionary…
Hugh already has a decent writeup – Review: Three-Way Thai–English English–Thai Talking Dictionary for Windows PCs – where he mentions the 42,000 entries, high-quality sound recordings, English to Thai, Thai to English, Sound to Thai, multiple pronunciation systems, instant search, and typing in Thai.
So instead of writing a duplicate review, I thought I'd walk you through the dictionary instead. Note: I'm not engaging in a marathon, I'm just writing about what interests me (as it might interest you too).
Getting around the Three-Way Thai–English Talking Dictionary…
The controls on the dictionary are few and logical, which means that you will not waste a lot of time learning your way around. Also, Chris made sure that there is more than one way to do any one thing, and we all know what that means: You get to choose what works best for you.

The top blue band holds the basic controls found everywhere on a PC: Move, size, minimize, maximise, and close. And you can get there via the logo with a drop down menu on the left, or the dedicated icons on the right.
Coming one level down is the main navigation for the dictionary software. The green arrow to the left does what arrows do: Takes you back to where you were previously, or forward even. Clicking on the small down arrow brings up a list of the words you've seen recently. Nice.
Next on the right is the main search area where, when you click on the large logo, you are given three options: Find an English word, find a Thai word, find a Thai word using sound. You can do the same by clicking on any word in English, Thai, or translation in the list below (not shown). For instance, if you want to start searching for a word in English, just click on any English word and start typing in the search bar (that empty white box waiting to be filled with Thai goodness).
Note: When you select Thai script either via the icon or by selecting any Thai word in the list, everything you type in the search bar is in Thai. That's right, without having to switch to a Thai keyboard even. Isn't that grand?
If you don't know where the Thai keys are located, the round blue circle further to the right is a Thai keyboard. You are given all of the Thai characters, and your keyboard controls the rest (delete, etc).
Next up is the wrench icon where the main controls reside; where you make the dictionary your own. You can play around with fonts and colours, but I left mine as is.
The main controls are where I changed the transliteration/pronunciation settings to what I use on WLT (T2E). As well as T2E, there is an excellent choice of pronunciation guides: Paiboon, Paiboon+, Easy Thai, TLC, Tiger, Haas, IPA, ALA-LC, TYT, LP, Thai Govt+.
And last on the navigation bar you'll see another blue circle with a question mark in the middle. That is the ever helpful help section. As well as explaining the different attributes, it also includes a quick tour of the software. It then goes into an overview of the Thai language with: Speaking and listening, pronunciation systems, reading and writing, and useful word groupings.
The Three-Way Thai–English English–Thai Talking Dictionary…
To show you a little bit of what this dictionary does, let's look at the Thai word งานปาร์ตี้ /ngaan-bpaa-dtêe/ (party).

I've cropped the screenshot to only show what I was searching for, so you'll have to imagine a long list of words underneath. All in alphabetical order.
First up on the main screen is the Thai script: งานปาร์ตี้. Then comes the transliteration from T2E: ngaan-bpaa-dtêe. Next is a sound icon where you can listen to your hearts desire. Clicking on the two stacked letters gives you the option to see the Thai word in seven different font styles. Party just happens to be a noun, so if you click in the n a screen pops up with a detailed explanation of how nouns work in Thai. On the second row is the English translation. Following that is an icon of a head talking. If you click on that icon you get tips on how to use the word and when.
In English, you might ask your friend to "eat," ask the guests at a formal ball to "dine," or read a scientific report about how to "consume sustenance." All these words just mean "eat," but they have different registers, meaning that they are appropriate in different social contexts. Thai words very often fall into different registers. When needed, we mark Thai words with the following symbols: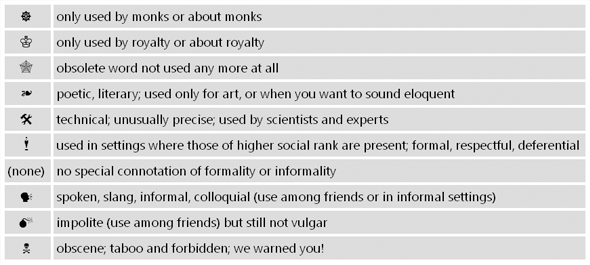 If your word in question is a noun, on the third row you'll find the classifier with Thai script, transliteration, sound icon and the seven font styles to choose from.
The double arrows on the top frame of the screen take you a window up. The single arrows move you one word up. The ก- ฮ icon brings up a popup screen with a list of consonants so you can move quickly through the dictionary. You can do the same by clicking on your style of choice (Thai script, English, transliteration) and then typing one or a few letters into the search bar.
I've only shown what happens when you are looking at a word in Thai script. It does the same for English and transliteration, only not in that exact order. When you go with transliteration, the transliteration changes places with the Thai script. Chose English and you get the below. Notice how ก- ฮ changes to A-Z:

I could easily keep writing about the attributes of Chris and Benjawan's new Three-Way Talking Thai Dictionary, but I'll stop here to give you a chance to try it out for yourself. To do that, go to Word in the Hand. At only US$24.95, it won't break the bank.
And if you want to get a look behind the scenes on how the software was designed, check out my interview with Chris: Backstage View into the Process of Creating a Thai Dictionary.
Ah, before I go… coming next from Chris and Benjawan is an iPhone version of the Three-Way Talking Thai Dictionary. And you can better bet that I'll be reviewing that too.
Chris and Benjawan on WLT…
Backstage View into the Process of Creating a Thai Dictionary