Everyone should have a Niwat…
My dear Canadian friend, Lynn, works with a wonderful guy here in Bangkok. Khun Niwat. And when a request is within his power, Khun Niwat delivers.
Can't find a back street in Bangkok? Khun Niwat can source it right quick. Need a complicated form sussed out? Khun Niwat's your man. Head shaking over the mysteries of living in Thailand? Khun Niwat is sure to know, or know someone who knows.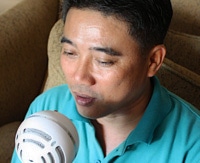 Being gifted with a musical nature, Khun Niwat will often entertain Lynn with songs from his childhood, or popular tunes and short ballads. Week after week, she never knows what to expect. And when I'm along for the ride, me neither.
For instance, last week, during a drive to Ayutthaya, we were serenaded with the sweet Săao Pàk Hai สาว ผัก ไห่ (an Ayutthaya love song).
But as Lynn is making her way back home, there are not many Thai weeks left for her. That's right, she's going home to the cold country (she'll be sorely missed).
I'm sure they'll be many last requests before she's on that plane (and maybe even after she's gone). But here's one I was pleased to help fulfil.
Yeah, you've surely guessed. Right? It's a recording of Khun Niwat proudly singing the Thai National Anthem. The very same rousing song that gives us pause twice a day, at 8 and 6.
Thai National Anthem

Now, does that bring a smile to your face, or what?
Ok. For painfully slow readers (like me) let's pull the reins in bit…
(…and for expats going for your Thai paper, it might not hurt to give it a go)
Thai National Anthem with script, transliteration and translation…
ประเทศ ไทย รวม เลือดเนื้อ ชาติ เชื้อ ไทย
Bprà-têt tai ruam lêuat-néua châat chéua Tai.
Thailand unites flesh and blood of Thais

เป็น ประชา รัฐ ไผท ของ ไทย ทุก ส่วน
Bpen bprà-chaa rát pà-tai kŏng Tai tóok sùan.
Nation of the people; belonging to the Thais in every respect.

อยู่ ดำรง คงไว้ไ ด้ ทั้ง มวล
Yòo dam-rong kong wái dâai táng muan…
Long maintained [has been] the independence…

ด้วย ไทย ล้วน หมาย รัก สามัคคี
…dûay Tai lúan măai rák săa-mák-kee.
…because the Thais seek, and love, unity.

ไทย นี้ รัก สงบ แต่ ถึง รบ ไม่ ขลาด
Tai née rák sà-ngòp dtàe tĕung róp mâi klàat.
Thais are peace-loving; but at war we're no cowards.

เอกราช จะ ไม่ ให้ ใคร ข่ม ขี่
Ek-gà-râat jà mâi hâi krai kòm kèe,
Sovereignty will not be threatened,

สละ เลือด ทุก หยาด เป็น ชาติ พลี
sà-là lêuat tóok yàat bpen châat phali.
sacrificing every drop of blood for the nation.
เถลิง ประเท ศชาติ ไทย ทวี มี ชัย ชโย
Thaloeng bprà-têt châat Tai tá-wee mee chai cha-yo!
Hail the nation of Thailand, long last the victory, hurrah!
What you might not know about the Thai National Anthem…
The music was composed by Phra Jenduriyang (Peter Feit), the son of a German immigrant.
The words were written by Colonel Luang Saranuprapan.
It's said to be similar to the French National Anthem, La Marseillaise (but I prefer the Thai).
Where the French anthem was used during the French Revolution, the Thai came along during the coup of 1932.
When the national flag is raised, the Thai anthem is played in public offices and radio and tv stations at 8.00 every morning and 6.00 in the evening. Be prepared to show honour by standing still.
Along with a Thai Royal Anthem, the Thais show respect to their King and Queen during the Thai National Anthem.
To qualify to even apply for Thai citizenship, the applicant must be able to sing the Thai National Anthem.
More about the Thai National Anthem…
A warm thanks goes to Khun Niwat, for sharing his voice. And another thanks goes to Wikipedia's translation of the Thai National Anthem, as well as Thai2English.com for their transliteration assistance. And I'd better not forget Lynn. Thanks girl! Thanks for being quiet yesterday, while we fiddled with computers and mics and cats and recordings… and all without a noisy ac (I'm still dripping).
Note: If you are wondering what Khun Niwat is doing with a white ball and script for the Thai Alphabet, please stay tuned while we figure out how to get fuzz-free entertainment from a Snowball.