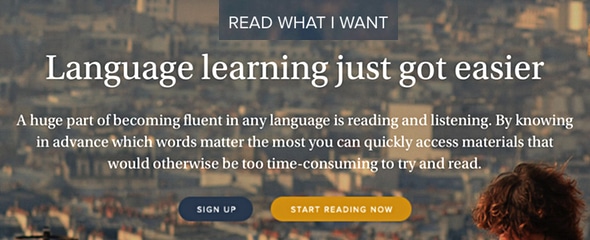 New Thai Product: Read What I Want…
Brett Whiteside (Learn Thai From A White Guy) is looking for feedback on a new project called Read What I Want.
Read What I Want is a tool for helping people learn to read faster by allowing them to access reading materials that they would normally consider way above their level.

RWIW makes use of crowdsourced learner-generated priority rankings on words and phrases so the reader knows what words/phrases in a particular passage matter to them right now and which ones are ok to skip over.

It will have all the standard functionality of definitions, audio, user lists and flashcards. The color-coded ranking which lets the user know how valuable that word is to them. For Thai and many languages, things like police rankings, people and place names, and foreign words can be really hard to figure out when you are just getting started. So for example, let's say somebody goes through my reading course and now they can pretty much read everything, but they don't really know any words. They can start skimming just about anything and picking out the blue colored words to learn first. They don't need to try to figure out the whole passage if they don't want to and they can skip the crossed out and lower ranked words that they can see don't matter so much for them right now.

Read What I Want will eventually work with all languages. As there's a need, Thai will be first.
Process for user interaction:
User submits link or copied text.

Manually.
Via bookmarklet.

Text gets parsed by system.

Words/phrases get colored (or shaded) by pre-existing (eventually) user-generated data determining the priority "weight" of each particular word/phrase.
Audio generation (entire passage + individual word/phrase).

If word has existing file → access file.
If no — generate via text-to-speech.
Passages should be recorded (users may be able to vote on recording priority).
Please take a few minutes to check out the demo site and fill out the survey. Thanks!
Demo Site: Read What I Want
SurveyMonkey: Read What I Want Survey