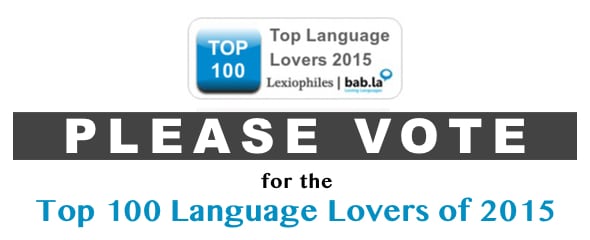 Please VOTE for the Top 100 Language Lovers…
It's that time again, the Top 100 Language Lovers Competition! To vote for Language Learning Blogs, please click on the button to your right (I'm in the A's this time – oh yah).
There are five categories to vote in: Language Learning Blogs, Language Professionals Blogs, Language Facebook Pages, Language Twitter Accounts, and Language YouTube Channels.
Competition rules: You can only vote for one entry per section. For more about the competition go to: Top 100 Language Lovers 2015 – Let's Get Started!
Language bloggers have worked hard all year long, so please do show your support by voting for your favourites.
Psst: WLT also made it into the Language Facebook Page section this year.
I look forward to the Language Lovers Competition organised by bab.la and Lexiophiles each year because it inspires me to improve WLT. This year I've totally revamped the site (as you can clearly see). And with over 700 posts (aren't Guest Writers wonderful) I've also added a Please Start Here page with an easy access button. I hope it helps.
But hold on – there's more! As WLT is turning seven (my lucky number) there will be Thai product giveaways each week for seven weeks. So every week there will be new winners. Yay for you!
What I did was approach the top movers and shakers in the Thai industry to see if they'd be interested in donating their fabulous products. And everyone said yes! I'm so grateful because I can now share what I believe are some of the best products available for learning Thai.
My sincere thanks goes to Stu Jay Raj (Jcademy), Duke (Duke Language School), Bingo-Lingo (Read Thai in 10 Days), Jo and Jay (Learn Thai Podcast), Tom and Kruu Jiab (Learn Thai Style), Benjawan Poomsan Becker (Paiboon Publishing), Chris Pirazzi (Word in the Hand), Yuki and Miki (PickupThai Podcast), James Higbie and David Smyth via Danny at DCO Thai and Orchid Press.
In total, they have generously contributed over US$4500 in prizes. Wow.
Seven weeks of FREE giveaways from top movers and shakers…
Before I get to the prizes, I'd like to explain exactly what I believe makes a true mover and shaker in the Thai industry. I thought long and hard about it, so here you go.
Each company mentioned are at the top of their field, creates materials with everyday Thai that you will actually use, and has a long-time commitment to the learning Thai industry. Are there others out there? Sure. But I was limited to seven weeks.
Jcademy (July 9): FIVE of Stu's Ultimate Thai Combo packages (includes the Full Cracking Thai Fundamentals program, Thai Bites and Glossika Thai Fluency 1). If you already have the combo, you can go with the new subscription package (yet to be announced).
Duke Language School and Bingo-Lingo (Arthit Juyaso) (July 2): FOUR copies of Bingo's detailed book and CD, Read Thai in 10 Days. And FOUR budding Thai students will receive Duke Language School's Survival 1 group lessons, which includes the textbook as well as free access to the beta version of Duke's online course.
Learn Thai Podcast (June 18): FOUR subscriptions to Learn to speak, read, write Thai via LTP's massive Thai course that has over 800 video, audio and text lessons.
Learn Thai Style (June 25): FOUR Speak Thai Course winners will receive a lifetime access to over 40 hours of audio and video materials, over 300 worksheets (with or without transliteration), online quizzes, self study materials, learn Thai blog access, as well as access to over 700 trained teachers (UK, USA, Singapore, Thailand and Skype).
Paiboon Publishing and Word in the Hand (May 28): FOUR EACH of the Talking Thai-Eng-Thai Dictionary apps, Talking Thai-Eng-Thai Phrasebook apps, and Thai for Beginners apps.
PickupThai Podcast (June 11): FOUR winners get 15 podcasts each of either Sweet Green or Spicy Red. Winners get to choose their level (beginner to advanced).
DCO Books and Orchid Press (June 4): TWO sets (four books) of James Higbies' Essential Thai and Thai Reference Grammar, as well as Smyth's Essential Grammar and Segaller Thai Without Tears.
The rules for the giveaways are simple:
Leave as many relevant comments as you like (with a stress on 'relevant').
Comment in as many of the giveaways as you want (there is no limit on how many prizes you can win).
Claim your prize before the week is out (unclaimed prizes will go to the next in line).
Note: Those donating will be responsible for choosing the winners. That's right. So even if you are one of my closest buddies, don't stay away! Yes, everyone can win. Good luck all!