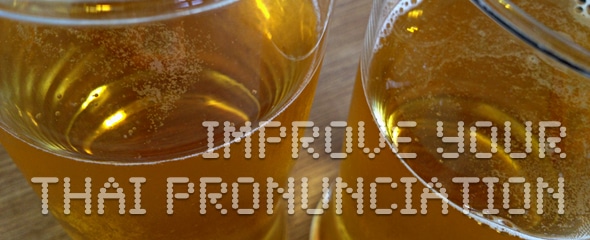 Improving your Thai pronunciation…
Unless you are like Adam Bradshaw, who wears Thai like a second skin, it's possible that your Thai pronunciation is lacking.
For Thai pronunciation help there's one product on the market that I'm familiar with: Benjawan Poomsan Becker's Improving Your Thai Pronunciation. It's a decent product but if you are like me, more practice is needed.
Concerned with my Thai accent I started following a Facebook discussion about Olle Kjellin's chorus repetition approach to acquiring native-like prosody.
Throughout the discussion, Olle was generous with his advice:
A small number of sentences — any sentences — will typically cover all that exists of prosody and segmental pronunciation in a particular language. With a small enough number of sentences you will be able to master them pronunciation-wise to 100% in x weeks, where x depends on the difficulty of that lg, but I assume 4-8 weeks on an average. All (=all!) other sentences in that language will obey exactly the same rules of prosody and pronunciation, so if you master your base sentences you will (theoretically) master all other sentences, and you will might be able to pass as a native, or native-like, as far as pronunciation is concerned. You will then have "acquired" rather than "learnt" the basics of a second language.

If you choose sentences at random, they will likely conform with the statistics of that language. But if you choose sentences from a common textbook for learners of that language, many kinds of otherwise "typical" sentences will likely be hidden from you, by kind textbook authors who don't want to make it too difficult for the learners.

But I admit that I myself have picked sentences from book2.de, despite their being over-articulated. After all, over-articulation too is a way of native pronunciation. And since I don't want to see the written language until I master the basic pronunciation (as is the situation for all native toddlers of any language), I may not be able to catch all sounds correctly if spoken too casually (as also is the situation for all native toddlers of any language).
In Olle's in-depth tutorial (pdf download), Quality Practise Pronunciation With Audacity, he goes into great detail about acquiring language porosity and using Audacity. Briefly, here's what to expect:
Are you learning a new language? Do you, like me, have the ambition to learn it well, to sound as "native" as possible, or at least to have a listener-friendly pronunciation that will not embarrass me or annoy the native speakers? This paper will show you how to achieve that, and explain why it is possible, even if you are not a child.

In these 21 pages with its 34 illustrations you will learn how to:

Produce perfect pronunciation exercises with your favourite sentences for free.
Practice the way that will give you the best result, for example perfect pronunciation, if you wish.
If you missed it, here's Ollie's pdf download again: Quality Practise Pronunciation With Audacity – The Best Method!
Following Olle's method, Alexander Giddings (the OP on FB) originally planned to practice 30 sentences over 30 days. Each day he added a new sentence while reviewing four previous sentences: "100 chorus repetitions per sentence per day for a total of 500 x 30 = 15,000 chorus repetitions".
After practicing the method for several months Alexander adjusted his mindset: An update on the prosody acquisition project according to the method proposed by Olle Kjellin.
Using a combination of Ollie's tutorial and the mistakes and advice Alexander shared, I put together a few points to create a prosody course of my own:
Select materials that are native Thai, not stilted, unnatural sounding coursebook Thai.
Select recordings by a middle-class, educated Thai female raised in Bangkok.
Break up any long sentences but listen to the entire sentence each time (important).
At one sitting, listen to 50-100 repetitions of each set.
That sorted, off I went in search of real Thai (Thai-Thai, not English-Thai). After asking around (thanks Sean) I finally decided to use the native audio from Thai Recordings. They also come with a transcript in Thai script sans Thai translations. Olle and Sean do stress to listen only (no reading) but I'm anal like that. You might as well ask me to stop breathing – I just 'need to know'.
Here's the process I used:
To get the files ready I first downloaded both the Thai audio and transcripts.
I then quickly went through the transcripts, creating individual sentence sections.
Listening to the recordings while reading the script, I made needed adjustments and corrections.
As a sentence per day is the plan, I then cut up the audio files into single sentences.
I created an audio file at regular speed and a file on slow.
I also created files with seven sentences (a week's worth). By having seven sentences in one recording I'm able to practice sentence run-ons that are common in spoken language.
And being anal (as previously mentioned) I made text files for each of the seven sentences, noting any vocab new to me.
Now that I had my files sorted, here's Olle's method (tweaked to suit):
First, listen to the slow version a few times.
Repeat single sentences hundreds, thousands of times.
When a break is needed, listen to the seven sentences for that week.
Practice tips:
Put the volume up loud when you first start new sentences (you want to saturate your head with sound).
After your ears begin to recognise words, loudly shadow (repeat at the same time) what you hear.
Gradually lower the sound level of the audio until your voice takes over.
Record yourself saying the sentences.
Check for pronunciation mistakes.
Once a week, have your Thai teacher give a critique.
Recording tips:
To change speed in Audacity: Effect >> Change speed >> Default settings
To create loops in iTunes: Controls >> Repeat >> One
To create loops in Audacity: Transport >> Loop Play
Useful resources…
Olle Kjellin: Quality Practise Pronunciation With Audacity – The Best Method!
Olle Kjellin: Choral Practice – the Neurophysiological Opportunist's Way
Olle Kjellin: Accent Addition: Prosody and Perception Facilitate Second Language Learning
Facebook: Pronunciation Best Practice
Alexander Arguelles: The Shadowing Technique
WLT: Recording My Thai Lessons With a Blue SnowBall
NOTE: I was going to wait four weeks or so before sharing this post but as I keep talking about it on Facebook, sharing now made more sense. Besides, I can always report my progress later.