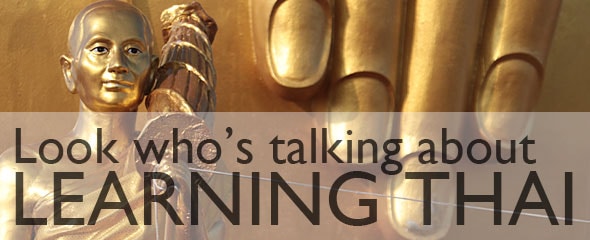 Who's talking about learning Thai…
September saw the first Look Who's Talking About Learning Thai and this month I'm going to do something slightly different. Instead of starting off with the featured site, I'm going to thank people who generously gave their time: WLT's wonderful guest writers, and those being interviewed.
WLT's generous contributors…
In September, a big deal for Bangkok was Stu Jay Raj's Cracking Thai Fundamentals workshop. in October, Claudio Sennhauser wrote a fine review of the workshop: Claudio on Stu's Cracking Thai Fundamentals. Another enthusiastic attendee, Peter, agreed to an interview: Peter Lo on Stu's Cracking Thai Fundamentals. A heads up: Stu will be back in BKK at some point, so keep an eye on his site if you aim to take his workshop.
Reiner Eiteljörge wrote a review comparing L-Lingo, Learn Thai Podcast, and Rosetta Stone. In the post Reiner discusses how he learns languages, the importance of learning grammar, as well as the challenges of learning Thai via the three courses.
For the Interviewing Successful Thai Language Learners series, Ryan, a clever iPhone app designer, took the time to answer questions in detail: Successful Thai Language Learner: Ryan Zander. My review of his app is here: Reading Thai Alphabet iPhone App.
What you didn't see in October were two other guest posts (apologies, October was… it just was): Hugh Leong (host of the Thai Language Thai Culture series), and Lani (from the first Thais Learning Thai).
Their posts will go in the November lineup, but to make up for my snafu here are the last October posts on their personal sites. And how fun, both are about motorcycles.
Hugh: My other car is a motorcycle
Lani: The left handed motorbike (no longer online).
Note: If you would like to contribute posts and/or if you have a talent for Thai, please contact me.
October: Who's talking about learning Thai…
Andrej: Bakunin Learns Thai (no longer online)
The TV Method is new and quietly growing in popularity. But other than turning on the tele, not much is known about the actual process. In October Andrej embarked on quite the conversation about learning Thai via TV Method, which is why I'm featuring his site. I found it interesting and I do hope you do as well.
Both 'Some observations on the acquisition of vocabulary 1' and 'Some observations on the acquisition of vocabulary 2' are self explanatory. Andrej writes about what he's learning while watching TV and listening to audio files.
In the 'Shortcomings of the TV method', a comparison is made between ALG classes and TV. Tip: the comments add to the post.
What I absolutely cannot do is 'Learn without translation'. I could try, but I know I'd be driven to peek! What do you do?
While not specifically about the TV Method, his other October posts are well worth the read:
Go Genius book series
An excellent idea, Andrej asked a friend in Bangkok to record a selection of Thai books. From my experience, learning to read while listening to audio is often easier than grinding you way through grammar tombs and Thai tones (although I can't help myself, I still have to know how things work 😉
TPR & Wimmelbücher
Wimmelbücher is a series of Dutch see and tell children's books. In the comments Andrej shared a amazon.de link so I went looking for an amazon with Wimmelbücher on offer closer to home. And here they are: Amazon.com and Amazon.co.uk. Excellent. I've ordered a few of the cheaper books to play around with.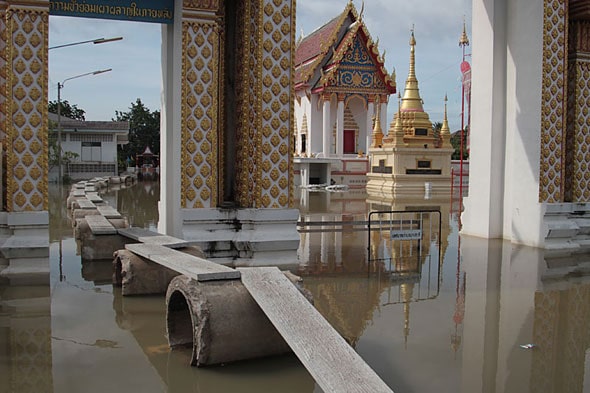 Ajarn Pasa: Tweet Yourself Thai | twitter: @AjarnPasa
I cheated a little when choosing posts from Hamish's site – I went the theme of the day instead. Two of the posts below are from October. The other two are from each side of the month (September and November). And if you've been watching the news, you'll know why I made this decision: flooding in Thailand.
With น้ำท่วม Flood! you get tips on searching via twitter for conversations on the subject. In Flood! – reduxe and Fomenting the floods practical reading practice is the topic. And Hamish's post about The Six Seasons is a sweet match.
Terry Fredrickson and Jon Fernquest: Bangkok Post, Learning From News
Hamish's discussion about the weather reminded me to add a new resource to the monthly review, Learning From News.
Terry has been writing on this subject for years (more in a later post). His efforts have recently been transferred to the Bangkok Post website. The target market is Thais learning English, so most of the copy is in English (as it should be). But if you scroll down towards the bottom of each post you'll get the Thai vocabulary. They've even recorded each article in English. Nice.
As with the posts above, I went with a flood theme:
Flood-related vocabulary updated
Flood waters approach Bangkok
Virtues of the traditional Thai house
Flood damage to rice crops and factories but sugar crop spared
BTW. If you think Thailand is having a lot of flooding now, check out Bangkok back in 1942!
Anothai Dara: Anothaidara
Anothai Dara is my favourite musical energiser bunny and I've grabbed a few songs to share:
Two Popetorn – Sia Jai Tee Tur Mai Roo [I'm Sorry, But You Don't Know]
Gun the Star – Raya Tum Jai [Period of Coping]
NOLOGO – Kon Tee Kao Jai [Somebody]
Flame – Ruk Sanook [Fling]
Brett: Learn Thai from a White Guy
What do you get when you throw Brett Whiteside in together with David Long at Bangkok Barcamp 4? For their first meeting it was a discussion about Why Language Study Sucks. David made a request for comments so if you have something to say, please do. I'd certainly be interested in hearing what you have to say.
Chris: chris_thai_student
In Language Spikes Chris introduces a term I haven't heard. Apparently spikes are what happens when learning via phrase books or similar, as they are arranged by subject (I believe I have that right). The tip shared in Unusual language equals video goodies is a good one – tell everyone that you are learning Thai and you just might get gifted a Thai thing or two!
Jo and Jay: Learn Thai Podcast Blog
When I stopped by the LTP blog I noticed their last post offered Free Thai Language Lessons for Your Holiday! Words and phrases, dating, food and drinks, numbers, shopping, getting around, and a lot more are included. Free is a good deal so if you have tickets to Thailand this Xmas or New Years, then Bob's your uncle.
Jon Russell: Jonny Foreigner
I don't get around to many of the non Thai language blogs (no time), so a special thanks goes to Martyn for the heads-up about Jon Russel's post. My "long" journey learning Thai is the first in a series of posts sharing how Jon learned Thai. I've now signed up for his feed via email. Have you?
Megan: Bangkok Reality Smackdown
Megan goes right for the throat with Challenge: Sitting Down and Studying Thai. And haven't we all felt the same at some point? Studying a foreign language can be tough. No doubt. And sometimes you need to reach deep to pull out the reason why.
By the end of the month, Meg gets out of full-time Thai studies by getting a job. But if I know Megan (and I don't) then she'll continue her studies on the side. What I do know is that Megan won the amazingly fabulous Reading Thai iPhone app this week so she's got that part of her Thai studies covered at least.
Palmisano: Thai Blog
Again I went hunting for a theme. I came up with two and both subjects are common in Thailand. Cute vrs ugly, and two lots of food poisoning:
Hey There, Good Looking!
But Your Just Too Ugly!
Food Poisoning part 1 of 2
Food Poisoning part 2 of 2
Richard Barrow: Using the iPhone in Thailand (no longer online)
Bless you Richard. I really do need to get back to reviewing more iPhone apps (and I will, I will… soon!) But until then: Thai Alphabet Helper, Easy Thai Script for the iPad and uTalk Learning Thai.
Rikker: Thai 101
Rikker's October post, Bureaucracy insanity: What makes a good Thai teacher?, isn't exactly about learning Thai, but it's a good read and does touch on the Thai school system. Scary.
Sebastian: Language – Life – Work (no longer online)
In 'Comprehensible Input In Thailand', Sebastian talks about a trip to Bangkok where he tries out the Thai he's learned so far. Also mentioned: Stephen Krashen' comprehensible input and the invaluable videos from AUA.
Snap: Learning Thai In Chiang Mai
Snap has had such a time sorting out a Thai language school in Chiang mai. After getting the run around for months from CMU, she went back to researching Thai Language Schools. And now she announced I've enrolled! Snap decided to attend Pro Language, which is the same school Talen is attending in Pattaya. Before Snap got on the plane she jotted down what she knows so far in Thai: Before I Go.
Talen: Thailand, Land of Smiles (no longer online)
As you've read previously, Talen is a couple of months ahead of Snap in the Thai school system. And his 'Learning the Thai Language Update' just shows you how far one can go (when they actually do their homework). Kudos Talen! We are rooting for you.
Stu Jay Raj: stujay.com
Stu's fun post, Pirated DVD's and Thai Translations Gone Astray, has tips on how to chose videos once in Thailand. Well, that's if you buy pirated videos… right?
In 12 Easy Steps to Reading Thai Stu explains how to use his Thai Consonant Chart. I wrote about his chart in Thai Language Cheat Sheets. The two other posts mentioned as must reads in his posts are Thai Tones, Consonants and Vowels in One Simple Post and Jazz Lessons on Language – Improvisation 101 – Stuart Jay Raj's Indic Script Compass.
?? thaiwrite
ดอกไม้บ้านเฮา is about house flowers from the north. I recently spent a week sipping a soothing tea made partly from กระดังงา /rà-dang-ngaa/ or as we call it elsewhere, ylang ylang. It was an interesting experience deserving a repeat.
Bloggers who sometimes tweet more than they blog…
As I mentioned in my first post, several bloggers also spend heaps and heaps of time at twitter (almost as much time as I spend writing emails).
Ajarn Pasa: Tweet Yourself Thai | twitter: @AjarnPasa
Ajarn Pasa is one of the few here who gives twitter and blogging equal time.
Kaewmala: Thai Women Talks | twitter: @Thai_Talk
Kaewmala is a political gal at @Thai_Talk but also shares needed insights on the Thai language at @thai_idioms and @lanna_talk.
Rikker Dockum: Thai 101 | twitter: @thai101
Rikker sometimes blogs, sometimes podcasts, but mostly twitters.
Who's all a Thai twittering…
Here's the complete list of those twittering about Thai:
@AjarnPasa
@andrewbiggs
@English4thai
@js100radio
@ikimmim
@lanna_talk
@literallythai
@stu_jay
@Thai101
@ThaiAlive
@ThaiShortNews
@thai_idioms
@Thai_Talk
Podcasts about learning Thai…
I'm not really clued into who's podcasting about Thai (don't hold your peace if you do), but as far as I can tell Rikker is the only one for October.
Rikker: Bangkok Podcast
In the 6th of their Thai Language Series, Rikker discusses The complexities of Thai vowels. It's a heavy subject but Rikker and the Bangkok Podcast gang make it less so.
Btw, the full list of both twitter people and bloggers can be found here: Thai Language Bloggers. Again, let me know if anyone is missing.
Until the November version, enjoy…