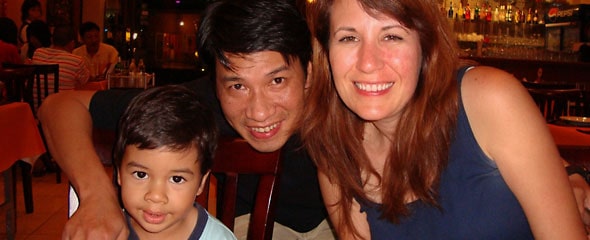 Learning Thai family style…
When living in Bangkok I tried. I tried hard – I bought the books, hired a tutor, and befriended many Thais for conversation. But I just couldn't get the language. And with Bangkok having so many English speakers of varying degrees and my rudimentary Thai, plus body language, I was able to get by just fine. There wasn't the pressure to learn the language I'd have if I were living in a small village where no English was spoken.
The most frustrating part was thinking I'd made headway in the language and then I'd hear a conversation between Thais and I'd have no idea, not a clue, what they were talking about. Or I'd speak and I'd have to say it again and again because I didn't get the tone exactly right. And that's where I left my formal Thai language training and I met my now husband, Golf, an impeccably good English speaker and professional Thai translator.
At present we're both raising our son, Aidan, who is nearly four years old and is fully bilingual in English and in Thai. Some readers may wonder how a small child learns two languages simultaneously and what the skill level is of each language compared to his age. Here are a couple of my observations about Aidan's language learning that may give Thai language learners some insights, and just show those who are curious about raising a bilingual child:
Aidan repeats everything he hears (which is why parents need to monitor what they say out loud!) in English and in Thai. When he asks what something is, he repeats it again and again and later uses the new word in a context relevant to his experience. I remember during my more formal training not really repeating new words as often as I observe Aidan repeating his new words. Practice repeating new words and sentences often. As adults we tend to internalize more than children, so reverse that practice when learning a new language.
Aidan makes mistakes with those darned tones, too! Golf would repeat, repeat, repeat a word that had a certain tone and would be incorrect if the word was spoken with a different tone. Aidan would try and try again, but still not get it right, so his daddy would simply go back to that word another day. Golf had told me that native Thai children who are around Thai speakers all the time don't have the tonal difficulties as someone who is surrounded by English.
Compared to children who only speak Thai, such as a couple of his cousins, and his friends who speak English only, Aidan is a little bit behind in both languages as far as the sophistication shown by children his age. When speaking either language, Aidan has to pause and think longer than other children when trying to express himself. I've been told this is normal for bilingual children. His little brain is doing a duel processing and has to sort twice as much information.
At a very early age, Aidan figured out that Daddy speaks one language and Mommy speaks another. When I try to say something in Thai to him, he says, "No, no, no, no – don't say that!" He only wants his papa to speak in Thai with him, so even though my Thai isn't all that great, the words I do know well are "forbidden" to say to him!
Aidan mixes Thai and English sometimes because he doesn't know the word. For example, we have the TV on mute and he wants the volume up and he will say to me, "Mama, I want siang."
What Thai have I learned in all this? Well, I have learned right along with Aidan. Golf used simple words, of course, and I asked what the unfamiliar words were when I heard him speaking to Aidan. I've gotten a good vocabulary since Aidan's been born, but I've internalized it all, not having expressed it the way Aidan does. I can understand 99% of the conversations between Aidan and Golf, and many times I will join in the conversation in English. Or if Aidan asks Golf a question in Thai and he doesn't know the answer, I understand the question and answer in English.
I imagine that my knowledge of Thai will increase as Aidan gets older, but my main problem is that I understand far more than I can speak. An ideal foreign language exchange would be each person speaking in their native tongue, the other understanding.
Lastly, despite being married to a man who speaks very good English, we still have moments of miscommunication or misunderstandings. I do have to wait a little while in the mornings for Golf to wake up fully before I have complicated conversations with him in English. And every now and then his accent throws me with a word here and there. Or I'd have to remember to use a more simplified word over a more sophisticated one (although Golf's grasp of more complicated English vocabulary is remarkable). Being married to a native English speaker certainly helps him in his translation business, too.
I've accepted that fluent Thai is out of reach for me and I still feel a wee bit of envy when I see, now and then, a farang conversing in Thai with someone and that person understanding perfectly and responding in kind. Oh! Those tones! It's very difficult for me, so I appreciate the efforts made by the Thai speaking foreigner. I feel grateful, though, that my husband and I share a language we're both comfortable in and we can fully express ourselves to one another, creating a close bond. Our child will get the best of both languages and our hope is that he embraces English and Thai equally.
Amy Praphantanathorn