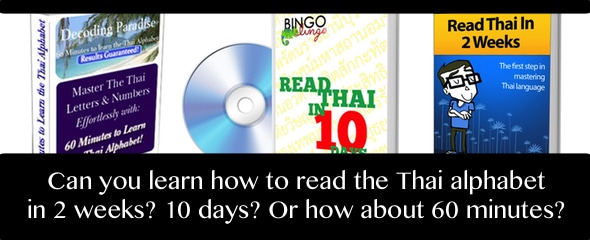 Just how fast can you learn how to read the Thai Alphabet?…
Seriously, can you learn how to read the Thai alphabet in ten days? Two weeks? Sixty minutes? Sure. Well, all except for the 60 minutes promise (but it sounds good).
And before you get all fluffed up about what seems like a load of hype, with the right materials you can indeed learn how to read the Thai alphabet in record time. I did. You can hear all about it in The Easy Way for Beginners to Read and Write Thai.
Actually, with the right teacher and materials, you can start reading the Thai alphabet in a matter of minutes. But when you finish learning the entire 44 consonants, 21 vowels, and all the extra fiddly bits is totally up to you.
Anyway, for this review I'm looking at the top standalone courses for learning how to read Thai: Read Thai in Two Weeks (by Brett Whiteside of Learn Thai From a White Guy), Read Thai in Ten Days (by Bingo-Lingo), and 60 Minutes Thai Alphabet (the method that saved my sanity).
Read Thai in Two Weeks…
Brett: Have you struggled with boring Thai books and lessons and still can't talk to anybody or understand anything? Have you been frustrated by the fact that no one can just explain stuff simply? Are you still waiting for it to 'click' so you can start having real conversations in Thai? I've been there. I'm a foreigner who went all the way from zero to fluent and I want to show you how I did it. I'll also steer you away from the loads of time-wasting, frustrating mistakes that almost everybody makes. I've already struggled through them and I want to make sure my students don't have to.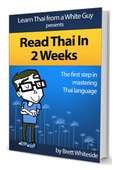 Author: Brett Whiteside of Learn Thai From A White Guy is a Western expat who's resided in Thailand for over ten years. In addition to being fluent in Thai, he's conversant in four other languages. Brett presently works as a consultant, translator and language tutor.
When struggling to learn tones and pronunciation, Brett created his own materials to teach himself Thai. After many adjustments to get it just right, and having great personal success himself, he designed a course to teach Thai to hundreds of expat students: Read Thai in Two Weeks.
Review: To give you a quick whip round this course, the introduction covers the intent of the course and instructions to setup Anki. The lessons are given in small, manageable chunks, each with audio files and mnemonics. Some have drills and/or exercises at the end of each lesson (these have audio as well). To test if you are ready to carry on with the next round of lessons, after the first 15 lessons there's a quiz on hearing, writing, and the tones and vowels previously covered. A second quiz tackles the rest of the already covered tones and low class consonants. After eight more lessons (drills and exercises included – so no, you don't get let off lightly) there's a quiz on numbers. Thirteen more lessons are followed by a "What Now" exam, but no sweat as you're already a superstar with the constant drilling, exercises, and questions asked throughout the course. To absolutely make sure you've learned what you should, a further six drills follow. A final lesson covers simple sentence structure.
The strength of this course is that being online it can offer clickable audio files, as well as quizzes, drills and exercises to test what you've learned (or not). Another plus are the mnemonics (memory hooks) to help get the materials down solid. Anki files with audio, as well as the free (to the public) iOS and Android apps tailored to the course, make sure you can continue your studies wherever you are. Note: the Android app has quizzes while the iOS doesn't (hint, hint).
When it comes to getting getting Thai lessons into your head mnemonics are a powerful tool. There are several ways to use mnemonics – graphics pre-drawn and ones you create yourself. In my experience they both work. In this course, except for the Middle Class Story, detailed descriptions lead you to create personalised visuals using your own vivid imagination. The more vivid, the more personal, the better.
The clearly recorded sound files (female, with a voice that isn't high or whiny) for each lesson show what the lessons are supposed to sound like. A heads up. For the majority of the course there's only audio so forget about using the crutch of transliteration.
Brett's experience as a student as well as a teacher of Thai shines through with the many insightful tips to help with concepts and remembering strange character shapes. The constant reminders to re-study what you don't know are needed. And just incase you've forgotten, every so often he reminds you to go off and practice using the custom-made Anki cards that come with the course, or to play around with the free Alphabet apps.
While Brett is obviously not physically present, the way the course is written it's as if he's looking over your shoulder, advising you every step of the way. And his liberal use of humour, often with an "ah hah!!", keeps the mood light throughout the course.
Price: $97 (orig $147) with 30 day money-back guarantee.
Product: 40 online lessons plus three quizzes and six drills all with audio recorded by native Thais (not T2S), 600+ Anki flashcards with audio (ditto), iOS and Android apps.
Website: Learn Thai From A White Guy
Facebook: Learn Thai From A White Guy
YouTube: Learn Thai From A White Guy
Twitter: @LTfaWG
Blog: Learn Thai
Interview: Bangkok Podcast: Learn Thai From A White Guy
Android App – FREE (includes quizzes): Learn Thai From A White Guy
Read Thai in 10 Days…
Bingo: The selling points of this course are simplification, understanding, and organisation.

Simplification: Many Thai script teaching courses don't handle rules well. For example, the tone rules. Instead of using bloated tables or cumbersome-looking tone flow charts, RTITD organises tone rules into one principle (plus the default tone for each tone mark) and three exceptions. The course also has a different take on Thai vowels. RTITD simplifies the 'traditional' number of vowels from 32 vowels (plus 10 vowel changes) to 22 vowels (4 of which have two forms), and treats vowel shortening and vowel-less words as separate.

Understanding: People may forget what they remember, but they will never forget what they understand! RTITD doesn't rely on sheer effort to purely memorise individual character's sounds when at initial and final position, it tells you WHY they are the way they are. The course also explains the nature of the Thai phonological system, that there are no unreleased finals, and which initial sound will become which final sounds, and much more.

Organisation: By prioritising what's essential, the entire course is carefully structured in such a way that makes sense. Lesson by lesson, what learners have previously studied is repeated and combined with the new materials being introduced.

For reading skill reinforcement, the approach draws from the principles of spaced repetition. Words chosen for the reading practice exercises are not random, but appropriately distributed throughout the course. Using this method, students quickly gain confidence in their ability to read Thai.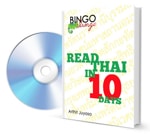 Author: Bingo (Arthit Juyaso) is a linguist and Thai national who developed a love for languages at an early age. The first foreign language he tackled was English (brave lad). Still in school, he then moved on to majoring in Japanese, attending a one year scholarship programme at Chiba University in Japan. After graduating Bingo did a stint as a Japanese translator. During that time he started dabbling in yet another language, Spanish. Realising his continuing love for languages, he then went for a Master's Degree in Linguistics. After, he started teaching English, Thai and Japanese at various schools in Thailand. Dissatisfied with how the Thai alphabet is being taught to expats, and influenced by his studies in linguistics, he came up with the method taught in Read Thai in Ten Days.
Review: This course gets into a large amount of detail (more than most), which clearly demonstrates Bingo's experience with teaching Thai to expats.
The materials come in two downloads: a pdf and a folder with audio files. Due to the pdf format Bingo uses transliteration with a pronunciation guide to approximate the Thai sounds, but advises students to depend upon the accompanying audio files instead.
The course starts out with a bit about Bingo, followed by a brief overview of the history of the Thai script, and then a pronunciation guide to help you through the unfamiliar Thai alphabet. Immediately after are first five lessons followed by an overview. Four more lessons follow, and after that, another overview. On lesson ten, the last day of the course, you get tips and tricks to help recognise the Thai alphabet. Before starting the course my advice is to go straight to the last lesson, especially "Same Same But Different", where you learn how to recognise different attributes of the Thai alphabet. Finally, the Appendices sums up the rules, presents the Thai dictionary order, shares more samples of Thai fonts, and finishes with a Thai-English glossary.
Each lesson begins with an outline of what you can expect to learn in that lesson (topics that logically go together are grouped together). The sub-topics have an explanation, what to memorise (with audio), writing lessons with practice sheets, in-depth explanations and tips, and self-driven quizzes with answers partially hidden from view by being upside down. At the end of each lesson is an overview of everything covered in that lesson. The in-depth tips help immensely with 'seeing' as well as understanding what's going on. If students cannot easily get through the overviews at the end of each lesson Bingo often reminds them to go back and study.
In the lessons teaching consonant and vowels there are samples of typical fonts, stylized fonts, and cursive fonts. Memory aids have been created for the mid-low-high classes (as groups) and the principle of tones (but not the tone marks). The recordings use the male voice (Bingo's).
Price: $17.99 (orig $49.99)
Product: 170 page ebook + audio files
Website: Read Thai in 10 Days
YouTube: Read Thai in 10 Days
Twitter: @readthai
60 Minutes Thai Alphabet…
60 Minutes: Stop struggling with the Thai alphabet right now. Use this system, and you will be able to read within minutes! This is the original memory system for the Thai alphabet, and has sold thousands of copies since 2005. We have been featured in the Bangkok Post, The Nation newspaper and major blogs like WomenLearnThai.com and ThaiVisa.com

Seven years of development have been invested in this ground-breaking system, which will allow you to relate almost immediately, to one of the most difficult alphabet systems. We have devised a visual memory system that relies on simple images, to enable you to immediately learn the sounds and shapes of the Thai letters.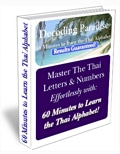 Authors: This ebook was created by a team of expats at 1steasythaialphabet. As professional expats do not stick around one place for long, they found plenty of opportunity to learn new languages. With Thai, they pooled their knowledge to create and refine the 60 Minute Thai Alphabet course.
Review: This exact ebook is sold all around the internet at different websites under different names, some going so far as to list themselves as authors (cheeky buggers).
There's a valid reason why this small course is so popular – the visual mnemonics work quickly to teach the shapes of the Thai consonants, vowels and Thai numbers, the tones, as well as the different initials and finals.
While I applaud 60 Minutes Thai Alphabet strongly (it rescued me from head-banging frustration) the lack of audio is indeed a weak point. But as there are many free apps and websites with audio files, not all is lost. You just have to work a little harder.
With only a small pdf sans audio, another downside is the present price ($19.99), compared to what Read Thai in Ten Days offers ($17.99). But if you wait it out, the price often drops.
Price: $19.99 (orig $49.99)
Product: 39 page ebook
Website: 60 Minutes Thai Alphabet
The wrap: The Thai alphabet in 2 weeks, 10 days, 60 minutes?…
The reason I chose to review these three courses in particular is because each have individual strengths that makes them the best of the standalone courses on the market. And after going back and forth between Read Thai in Two Weeks and Read Thai in Ten Days to double-check, I believe that more than ever. So, here you go, my thoughts… peppered with many "If's".
If you've tried to learn how to read the Thai alphabet and failed miserably (as I did), then start with 60 Minutes Thai Alphabet – but don't stop there.
If you need readymade mnemonics, again, start with 60 Minutes Thai Alphabet (ditto on the not stopping).
But if you'd much rather create mnemonics personalised to your own way of thinking and understanding, then grab Read Thai in Two Weeks.
If you learn best by a hands-on approach of working through a multitude of online quizzes and exercises, then Read Thai in Two Weeks would be the top consideration.
If money is an issue, then Read Thai in Ten Days will get you there.
If a touch of spaced repetition is how you learn best, then go with Read Thai in Ten Days. But remember, with all those drills and exercises, Read Thai in Two Weeks also repeats the lessons learned.
If you need an instructor with experience in language learning and teaching Thai, who can clearly and simply explain the intricate details of the Thai language, then both Read Thai in Two Weeks and Read Thai in Ten Days are excellent.
Here's another 'IF'. If I had to do it all over again, I'd start right away with 60 Minutes Thai Alphabet with a Thai alphabet app by my side. After I felt comfortable with all those strange squiggles, I'd study using both Read Thai in Two Weeks and Read Thai in Ten Days.
But in saying that … product jumping can be a deterrent when learning a language (owning most everything for studying Thai has been a hindrance for me, not a help). So IF I had to choose between Read Thai in Two Weeks and Read Thai in Ten Days, with my visual-spatial learning style I'd do better with a course heavy in mnemonics, quizzes, drills and exercises, as well as clickable audio. So it'd have to be Brett's Read Thai in Two Weeks.