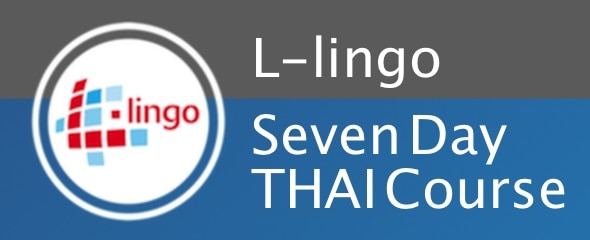 This is your lucky day! L-Lingo just launched a FREE Seven Day Thai Course.
When you sign up, for a week you will get an email a day with great Thai learning resources to jump start your Thai learning. The material included is suitable for both beginners and intermediate learners.
This is what you will receive:
Thai Grammar.
Thai high frequency word lists (top 150 and top 1000 Thai words).
100 important Thai phrases.
Tips for effective language learning.
When I reached out to ask about the reasoning behind this generous offer, I was told that the Seven Day Thai Course is a part of the launch of a new strategic focus at L-Lingo. By analyzing the progress of thousands of students on the way they learn, the people behind L-Lingo realized that most students give up learning Thai because they cannot stay motivated, and not because of a lack of learning resources!
So to tackle that issue, L-Lingo has turned their focus on implementing features that will help you stay on course with your Thai learning. To assist with this, Melanie at L-Lingo now has the official job description as "Student Success Manager" and will introduce herself once you sign up for the Seven Day Thai Course.
Some time ago L-Lingo implemented the feature of daily learning reminder emails in their web app and one of the next features will be motivating progress badges. In line with this, the new Seven Day Thai Course focuses heavily on giving you ideas about how to learn effectively without giving up. Sounds great to me!
You can signup to the free Thai course on the L-Ceps/L-Lingo page: Seven Day Thai Course.
Happy Learning!