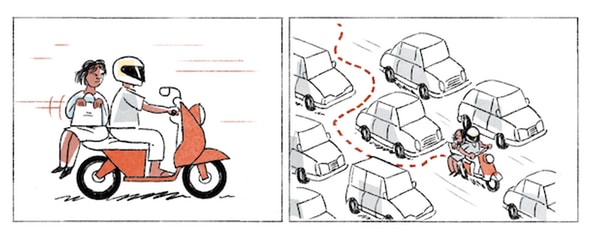 Introducing aakanee.com…
Recently, I've moved Thai Recordings to a new website, aakanee.com. This was necessary in order to make room for a couple of new projects I'm working on; I wanted to have them all under one roof, so "thairecordings.com" wasn't the appropriate domain anymore. I've just launched two of these new projects… and there's more to come!
Picture supported learning…
I've been learning Thai for a number of years already, but recently I've developed a broader interest in the languages of the region. I'm also passionate about language learning and enjoy thinking about how to work with the target language as it is, ideally in its spoken form, from the very start. When I took up Khmer seriously earlier this year, I implemented an approach which relies entirely on native speaker input, supported by visuals and picture stories. Visual context can really boost comprehension and make language which might otherwise be too advanced accessible at the early stages.
Illustrations for South-East Asia…
During this work, I've encountered two limitations: lack of copyright, preventing me from sharing, and a lack of culturally appropriate illustrations – most suitable wordless picture books and language learning illustrations are based on Western culture. So I decided to address both of these shortcomings and develop a set of illustrations for South-East Asian languages. Eventually, there will be around 50-60 topics, each consisting of 12-20 frames. It's work in progress, but I've got a nice little stash already. As with Thai Recordings, all of this is self-funded and will be provided under a Creative Commons Attribution-NonCommercial-ShareAlike license.

These illustrations can be used in various ways, for instance with a tutor to learn basic vocabulary [beginner] or to stimulate speaking [intermediate] and maybe even discussion [advanced]. On my website, I will provide supplementary materials for various languages, starting with Thai and Khmer. For Khmer, I myself will be my best "customer", and I'm planning to provide both spoken and written descriptions (also read out loud). For Thai, I'm working with Khun Pari, a long-time online tutor of mine, to do relatively easy but still natural descriptions aimed at intermediate learners. These descriptions will come with a basic list of key words and phrases used in the recording.
It would be nice to be able to offer more for Thai. If you want to contribute to the Thai project, please contact me via www.aakanee.com/contact-form.php – I'm willing to host materials if volunteers step forward to produce, for instance, transcripts, written descriptions or other types of recordings. (If I were to suggest a format, then I would recommend to do super slow, super basic and quite short descriptions aimed at beginners. I have a friend in mind who needs exactly that :))

Beyond Thai…
I'm planning to exploit these illustrations shamelessly to satisfy my interest in various languages of the region. For the foreseeable future, I will focus on Standard Khmer, but I'm planning to work on Northern Khmer – the Khmer spoken in Thailand – next year. I'm also determined to put up something for Northern Thai, hopefully already very soon; while not exactly endangered, Northern Thai is clearly an underserved language. Besides that, I would be very supportive of any project related to minority languages, for instance Kuy, a Mon-Khmer language spoken in Thailand, or Shan, a Tai language from Eastern Myanmar, and also more mainstream languages like Lao; such projects will either happen (much) later or need to be driven by someone else.

I hope you find this project worthwhile. Feel free to use the illustrations for your own learning, and don't hold back with any feedback you might have, either here or directly through my website.
Thai: Thai Illustrations
Khmer: Khmer Illustrations