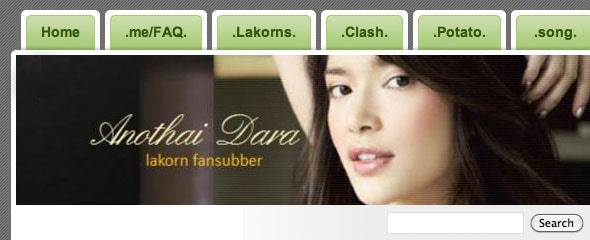 Learning Thai with translated lakorn videos..
If you are serious about learning Thai, you probably search out every available avenue for getting the rhythm of the language into your heart, your head, down to the tapping of your fingers even. To assist, Thai songs are a great way to go, as are lakorn's.
Dedicated, professional, and driven, Anothai Dara is one of the most popular lakorn fansubbers I know.
Wantagan (Chompoo) returns home to Thailand from America after her father passes away. She knows that her father was swindled, slandered, and murdered. She just needs to prove it. Her twin sister, Tienwan (Chompoo), also suspects the same, but is too afraid to vindicate herself. She is Natin's (Chai) long time girlfriend and does not believe he or his family would betray them. Wantagan, on the other hand, is determined to uncover the truth at all costs and leaves no one out as a possible suspect…
If soap operas are not your thing, Anothai Dara also has a growing collection of translated songs that include Thai script, transliteration, and English. Here's the latest one: Bodyslam – Naliga Tai [Dead Watch].
I've always been interested about the process of subbing YouTube videos, so I contacted Anothai Dara for an interview…
Interviewing Anothai Dara, a lakorn fansubber…
Could you please tell us a little bit about your background?
I was born and raised in the U.S. and English is actually my primary language. I learned Thai mostly through my grandmother, so I understand it better than I can speak it. That's also why I'm able to translate from Thai to English just fine, but translating from English to Thai is a bit more difficult for me. I have a BS degree in Mathematics and Chemistry.
What is a lakorn?
A lakorn is a Thai play or drama series, which usually consists of the pra'nangs (hero and heroine) and the nang'raai (female antagonist). There's usually a birth secret or some sort of inheritance revelation, but usually end happily with our pra'nangs confessing their love for each other on a beach. Of course, those are just lakorn clichés, and there are plenty more, but listing them all would probably require its own article. LOL.
How did you get into translating YouTube videos?
Initially, I'd wanted to translate/sub Thai music because I thought it'd be a great way to share some of my favorite Thai songs with everyone. Then naively, I thought, "How hard could translating lakorns be?" You see, I'd always admired and have been impressed with fansubbers of other countries (i.e. Korea) and especially of Chobling and wishboniko (Thai fansubbers), who I think started the whole lakorn subbing. However, you'll see how wrong I was about the whole subbing process as I explain it below.
What is the process? How long does it take?
Subbing dramas/movies consists of 5 steps; translating, timing, editing, spot translating and hardsubbing/encoding. (The last step is actually optional, but a must for me since I post my work on YouTube.) Also, before I can even start the subbing process, I have to rip and convert the DVD files into individual episodes.

Translation & Timing: Here's where the fun begins. I go through what I call a rough draft of translations and timing. It's basically what it sounds like. I run through a "quick" translation and save unclear spots for later. Timing is where the subtitles are timed to display in sync with the actually spoken dialogue in the video. This takes about 2 to 4 hours for a 1 hour episode.

Editing: Here, I check for any grammatical or translation errors and check that the translations themselves make sense. I also make sure that the timing has been set correctly and that everything runs fluidly. This part can take another 2 to 4 hours.

Spot Translations: Even post editing doesn't mean that I'm done. Sometimes, there are spots in the video that are either hard to hear, discern or refer to something I am unfamiliar with. Here is where I fill them in to the best of my ability. This part can take anywhere from a few minutes to a few hours. It really depends on how many spots there are to fill and how difficult each one is. This can end up being more painful and strenuous than the initial translations itself.

Hardsubbing/Encoding: Hardsubbing is where the subs are encoded into the video so that they're permanently embedded into the video.

All in all, subbing a 1 hour episode takes an average of 6 to 8 hours, but has taken longer. Subbing songs isn't nearly as arduous, but still requires the same care. In Thai (and in many other languages), pronouns are often always unstated and even when they are stated explicitly, they can be rather vague. Take for instance; the third person reference "kao", which means "he", "she", or "they". This is the reason why I emphasize that my translations aren't direct translations, but rather, interpretations.
You are teamed up with another fansubber. How is the work shared out?
I've been blessed in having a wonderful subbing partner, Chobling. I feel extremely fortunate to be able to work alongside someone whose flawless work I've always admired. Since there are only two of us in our joint projects, we don't feel the need to explicitly credit each other for the individual work we put forth. Having a partner is great and alleviates much of subbing angst that can build up. Also, it allows us both extra personal time, which is the icing on the cake.
How do you choose which video or song to do next?
Ever since I started subbing, I haven't listened to Thai music the same way. I have a (bad?) habit of translating songs in my head while listening to them. The reasons behind my subbing selection vary tremendously. At times, it could just be a line that strikes a chord, while at other times, the song holds personal meaning. About 25% of the songs I've subbed were requests, so they might not have had anything to do with me at all.
How do you handle critics?
I've had my share of criticism. I realize that putting my work on the internet poses vulnerability to judgment. Some people dislike my non-literal style of translating while others think I'm too literal. I know, I can't please everyone. I can only try my best and be content in that. On a different note, I do appreciate constructive criticism; not the ones that attack just to be hurtful. I'm always up for learning and improving because there's always room for that.
What advice do you have for someone wanting to try their hand at translating Thai songs or movies?
While subbing songs doesn't require any form of commitment, I'd say translate each one with a bit of passion. Here's your opportunity to express yourself through your song interpretation. Make it your own, but respect the artist's intentions.

As for subbing lakorns, make sure you're ready to eat, sleep, and breathe it for the next few months. Well, at least love it enough to be motivated and inspired to sub it to the very end. There's a sense of responsibility to bear in mind.

The demands and pressure may get overwhelming at times, but the reward is well worth it.

Good luck.
Anothai Dara,
Anothai Dara | Twitter: @AnothaiDara