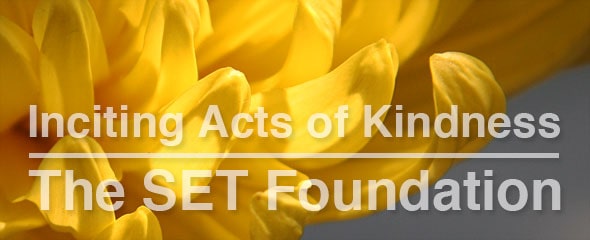 Giving back and RAKing sans sin…
Christians are really big on the concept of sin. Also quite popular is the atoning for sins by doing good.
Ok, for Catholics, the rosary is supposed to come into it, but I grew into my own way of thinking. By the time I was in my 20's, giving back had taken over twirling beads (not that I was ever much into jewelry).
Later, RAKing become the craze. And as I'm an impulsive animal, I took to RAKing.
Here's how it works: "RAKing" is carrying out a Random Act of Kindness. You'll feel great for doing it, your recipient will love it, and everyone who reads about it will get a warm fuzzy feeling.
When I started RAKing, it was not about anyone finding out. Hit and run kindness was more like it. But back then, there was *GASP* no Internet. And these days, instead of hiding our intentions, using technology to incite further acts of kindness makes more sense.
Acts of kindness on the Internet can break out most anywhere. The ThaiVisa discussion, Sick Friend, is one recently on my mind.
Making merit comes full circle…
Thailand has its own version of giving back called making merit. And same as in the west, the Thai act of giving usually involves getting something in return. I've grown to expect warm and fuzzy feelings and tax breaks. But in Thailand, it also depends on the what as well as the who:
Talen (Thailand Land of Smiles – no longer online):

If you offer rice or any staple food, you will be happy and healthy all through your life.
If you offer clothing, in your next life, you won't have a problem with clothing and will also have beautiful skin.
If you offer candles, flashlight and incense sticks you will have beautiful and bright eyes. Also, in your next life you will not need glasses.
If you offer a Buddha image, in your following life you will be as beautiful as that image.
If you offer religious books or donate text books and learning materials for school children, you will be intelligent in your next life.
If you offer soap, skin lotion or cleansing facilities, you will have nice and beautiful skin.
If you donate money and materials for constructing buildings in the monastery, you will have a big and beautiful house in your next life.
If you build bathrooms and toilets for the monastery and help to build public hospitals, you will have a healthy and happy life.
If you offer toothpicks, toothbrushes and toothpaste, you will have beautiful and strong teeth.
If you donate blood, kidney or other part of your body, you will have a fit body and vigorous health in your future lives.
During a discussion about Thai sayings and making merit, Benjawan sent over three proverbs from her CD, Speak Like a Thai Vol. 3: Thai Proverbs and Sayings:
บุญมา วาสนาส่ง
bun maa · wâat-sà-năa sòng
With good merit, power and fortune will come.
ทำดีได้ดี ทำชั่วได้ชั่ว
tam dee dâi dee · tam chûa dâi chûa
As ye sow, so shall ye reap.
Literally: Do good get good; do bad get bad.
ให้ทุกข์แก่ท่าน ทุกข์นั้นถึงตัว
hâi túk gàe tâan · túk nán tĕung dtua
What goes around comes around.
Literally: Give others suffering, that suffering comes back to you.
I quite like the full circle concept of it all. Just think about it: If an action is going to come back to bite you in the butt, a positive is better than a negative. Correct?
And (drumroll), referring back to Talen's post, I quite like the idea of contributing to the education of Thai school children.
Inciting acts of kindness at the SET Foundation…
Last Monday was my birthday. Yeah. Bad timing. I did get the coveted 7D, but when asked what else I could suggest as a gift, I chose giving back to Thai students instead. Reason: Like many westerners, I have plenty of stuff. Also, operating with a 'something comes in, something needs to go out' policy makes getting more stuff a challenge (pssst: Anyone on the market for a secondhand KISS?)
Ok. Do you remember back in December, when I wrote about Peter Robinson's SET Foundation? This post is along the same concept, but for a different season.

When I donated at Christmas, I discovered that 5000 baht will pay for one school semester for a Thai college or uni student. But the problem with the onetime donation is that you give, you feel all warm and fuzzy, and then you forget. I do anyway.
So when I went to donate this time, I noticed the drop-down menu on SETs paypal button. Sweet. So now I get the warm and fuzzy automatically. Every month.
Also, by selecting monthly, I don't get a chunk taken out all at once. By spreading the donation over the year, I can give more. And there you have it. Logic, Cat style 😉
I'm not sure when Benjawan's birthday is, but she has decided to incite acts of kindness in the direction of the SET Foundation too. How about you?