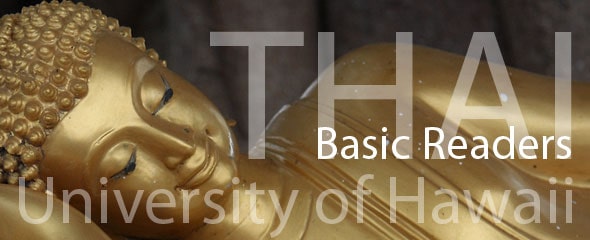 A new find for Thai learners…
Developed for The University of Hawaii by Thomas W. Gething and Pongsuwan T. Bilmes, the Thai Basic Reader can be used online or via a CD and text book.
The lessons in the Basic Thai Reader are graded in difficulty and are designed for use in teaching reading to students who already have a general conversational Thai background and who are familiar with the Thai writing system.
The lexical range represented in the early lessons is approximately that of lessons 1 through 50 in the Thai series prepared by J. Marvin Brown (A.U.A. Language Centre Thai Course, books 1, 2, and 3).
Other free Thai readers…
Mary Haas Thai Reader
This is a reader for intermediate level Thai readers, so be sure to go through the Manii books (below) first. Includes sound and interactive exercises.
dungtrin.com
Thai Literature audio books. Pdf and mp3s downloads.
FSI Thai Basic Reader
FSI supplementary textbook for self-study. Pdf download.
Gor's World (offline for now)
Stories from a Thai teenager in both Thai script and English.
Manii Readers
Manii Reader 1 and 2, as well as online vocabulary tests. It's old and clunky, but it is there if you need it. Pdf and mp3 downloads
Read Thai with Manee and Friends
A modern Manee (Manii) reader at LearningThai.com. As there is no direct url, select Read with Manee from the nav on your left. Included are 22 lessons with sound, a vocabulary list, flashcards, tests and more tests.
Resources on Thai word origin and usage.
Rikker from Thai 101 points us to resources for the advanced Thai reader.
Short Story
English-Thai short stories from SEAsite.
Suphawut.com: Bilingual Translations Zone (now offline – so sad)
Translated Thai songs, poetry/poems and assorted texts.
SEAlang Lab: Just Read
The motherload of online Thai-English reading. Sounds are lacking for whole paragraphs, but when you click on individual words the search takes you to a dictionary with sound and video. Be sure to poke around the SEAlang Archives while there.
Thai Reader Project
There are 76 reading lessons going from basic literacy to an advanced level. Sound is not included.
Languages on the Web
Daisy Stories: Night Watch, A Nice Little Trip, The Bookworm, Daisy Macbeth.
Thai Fiction in Translation
Translated modern Thai literature, by Marcel Barang.
Thai On-Line Library – Bitext Corpus
Thai and (mostly) English parallel translations.
The Thai Bible
This Biblica translation of the Bible is for the Thai language, which is primarily used in Thailand. This translation uses a semi-formal language style and applies a mixed translation philosophy. It is translated from the biblical languages and the New Testament was completed in 1999.
wanakam.com: WANAKAM (now offline)
World classics translated into Thai.
And don't forget to check out a previous post on WLT: Thai-English Readers with Mp3s.