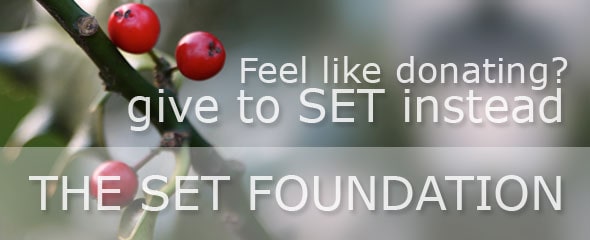 The ho ho ho's of Christmas are coming up fast…
All through the year I keep a look out for Xmas gifts suitable for friends and family. I'm not a huge gift giver anymore. Not when it comes to all that necessary luggage stuffing. Because each holiday everything purchased in Thailand has to be taken from here to somewhere over there and there and there. But nevertheless, I do want the presents to be right.
By November, if I haven't collected enough of a stash, my hunt for gifts goes into overdrive. Are you are the same? Or do you wait until Christmas Eve to go shopping (I've been there). Or do you forgo Christmas totally?
But no matter if you are a gift giver or not, or Christian even, the good will at Christmas often points our hearts away from ourselves to focus on others. And as I get older, I even find myself doing similar for birthdays.
This year for my birthday, instead of asking for more stuff, I started donating to the SET Foundation on a monthly basis.
You can read about it in a post penned during the Thai crisis: Inciting Acts of Kindness: The SET Foundation.
Feel Like Donating? Give to the SET Foundation Instead…
The holidays are here again, so when I received the below email SET came to mind.
[WLT is] Without doubt the best aggregator of Thai learning resources on the net. Congratulations. You should put up a link where people can contribute / donate. An impressed bloke!
And yes. His kudos did give me the warm and fuzzies 🙂
WLT is a hobby site; it's not a money-maker. It takes money to run WLT and that's fine. My Thai, while slowly improving, is still cacca. Sure. But I've learned so much about the Thai language and Thai culture since I started WLT, that I feel it's me getting the main benefit. Creating useful content for others is a big part of it as well, so… it's a win win all around.
Now about that donation idea… If you feel that WLT is a worthwhile resource, then why not show your appreciation by donating to Peter Robinson's SET Foundation? Or how about this – take WLT out of the equation, and donate to SET regardless.
And if you do donate, for whatever reason, then we'll all get an extra warm and fuzzy this holiday season.
Btw. If you'd like a quick overview of SET – like the fact that less than 3% of their income is spent on administration – then my older post gives you just that: The SET Foundation: A Season for Giving Back.
From Peter Robinson: The greatest gift…
When I asked Peter for a quote for this post, he was happy to do so.
"The greatest gift we can give these impoverished youngsters is opportunity; the opportunity to make something of themselves, to achieve something for themselves and to break free from the poverty that they were born into. By giving them the opportunity to study for vocational skills or university degrees, we can change their bleak futures; we can change their lives".

SET has been working in Thailand for 18 years, originally as the Students' Education Trust. The charity was established by Peter Robinson, who was then the monk Phra Peter Pannapadipo. SET became a registered Foundation in 2005.

The charity's original purpose was to help just one high school student attend university. The student – Seckson – had gained a university place to study for a Bachelor degree in Physics but was too impoverished to take up his place. Instead, he had taken a job cleaning car windscreens in a gas station. Peter thought that was a terrible waste of talent and appealed to his friends in the UK for support for Seckson. They readily agreed but sent too much money. The balance became a fund to help other youngsters in a similar position.

SET grew from there and, by the end of 2010, had taken nearly 4,000 needy students through high school, college or university; sometimes all three with continuous support for up to twelve years.

Seckson, student number 0001, is now Dr Seckson and is a university lecturer in Nuclear Physics. Not bad for a boy who once saw his future as cleaning car windscreens!
In the photo is Peter with three of his SET students. All three have a place in Peter's book, Little Angels. The students are celebrating their recent Masters, and Peter his Hon Doc. Impressive.
My small monthly donation pays for one student to go to college for a year. Now just think about that for a minute. Even a small donation to SET can change the future of a deserving Thai student. Forever. And that, is huge.
Monthly, one time, whatever, all donations are needed. So if you are thinking of donating, please do.
Oh. And if you do donate, please don't forget to tell Peter that Catherine sent you 🙂
The SET Foundation: Making the difference.