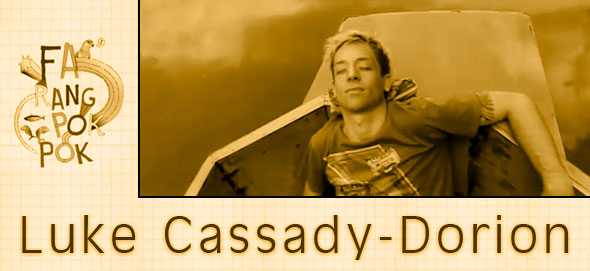 Luke's Farang Pok Pok: Episode One…
The first episode of the Thai TV show that I co-host, ฝรั่ง ป๊อก ป๊อก (Farang Pok Pok), aired in January 2011. In this episode I traveled to Samut Sonkram to live with clam farmers.
Filming the first show was much harder than I expected. Speaking Thai with friends is easy enough, but having to perform in front of a camera is another story!
In each episode I will extract the key vocabulary.
ฝรั่ง ป๊อก ป๊อก | Farang Pok Pok: Episode 1: Part 1…
Part of the theme of this TV show is backpacker-style travel. Which means that we generally have to travel in the most non-luxurious way. So in the past few months, hopes of a TV life being glamorous were shattered.
This first episode shows me traveling to Samut Songkhram. First, via BTS, then by train, then walking, train again, and then via tuktuk. It took almost an entire day to travel the same distance that we could drive in an hour.
The funny thing is that once we had wrapped up the shooting, we all took a รถตู้ /rót-dtôo/ (one of those 15 passenger van things) back into the city. Travel time? Under one hour.
Key Thai phrases:
โอ้วว เจอแล้ว คิดว่าหาย
ôhhh jer láew kít wâa hăai
Ohh … here it is … I thought I had lost it.
ดู ซี สิบบาท ถูกมาก
doo see sìp-bàat tòok-mâak
Check this out … 10 Baht … cheap!
คนมาเส้นนีเยอะมั้ยครับ
kon maa sên nee yúh mái kráp
Is this a popular route?
Farang Pok Pok: Episode 1: Part 2…
Listening to myself in Farang Pok Pok has been incredibly helpful in terms of hammering out problems with my accent. Many words that I thought I pronounced properly show obvious errors when I listen to them in the videos. I highly recommend that students learning languages record both native speakers and their own voice, and then spend some serious time listening to how they speak. It will make a world of difference.
Key Thai phrases:
ถึงแล้วครับ
tĕung láew kráp
We made it!
อันนี้แม่น้ำแอะไรครับพี่
an née mâe náam àe rai kráp pêe
So, what river is this?
แล้วพี่เป็นชาวประมง
láew pêe bpen chaao bprà-mong
You're a fisherman?
มัลดีฟส์เมืองไทย
man-dèef meuang tai
It's the Maldives of Thailand!
เคยโดนกัดมั้ย
koie dohn gàt mái
Have you ever been bitten?
มีจำนวนกี่ตัว
mee jam-nuan gèe dtua
How big is the troop?
โอ้่ว มีเป็นพันตัว
ohhh mee-bpen-pan-dtua
Ohh, there are over a thousand.
ทำกะปิตาดำของคุณ
tam gà-bpì dtaa dam kŏng kun
It's used to make our authentic shrimp paste.
Farang Pok Pok: Episode 1: Part 3…
As we don't have the budget to send out an advance team to research the locations, there is always a chance that things will not go as we'd planned. The team does do a fair amount of research via the Internet and phone, but sometimes we get to a location and realize that we don't have enough activities to fill an episode and have to improvise.
In this case, we totally lucked out with Gaan (กาน) who was a total ham, spicing up the show considerably. She even helped me with my pronunciation.
Key Thai phrases:
หนึ่ง … สอง … สาม
nèung … sŏng … săam
One … two … three.
ใครเป็นเพื่อนสนิด
krai bpen pêuan sà-nìt
Which one is your best friend?
ดูว่ามีอะไรให้กิน
doo wâa mee à-rai hâi gin
Let's see what they have cooking.
วันนี้จะทำอะไรครับพี่
wan née jà tam à-rai kráp pêe
OK, so what are we making?
ผัดผัก
pàt pàk
Stir fried vegetables.
Until the next Pok Pok episode…
Thank you for watching the first episode in my Farang Pok Pok series! Stay tuned…
Luke Cassady-Dorion,
Goldenland Polygot
luke.org