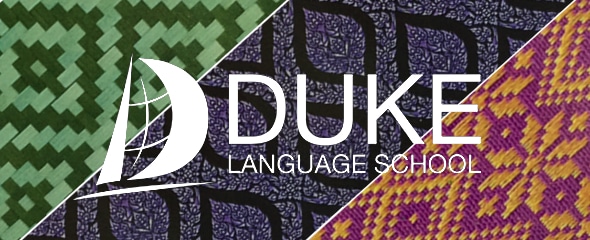 Duke Thai Language School's updated materials…
When I first wrote the review for Duke Thai Language School I mentioned they were a Union Clone version 2.0 type of school. By that I meant they used the Union methodology and format albeit with new re-vamped, re-written text books. That has changed.
After more than a year in the making, Duke Language School's new conversational Thai material is done and currently being taught. These were the books that Bingo (Arthit Juyaso) poured his blood, sweat and tears into writing from scratch. They are IMHO, the best, most comprehensive and information filled books on Thai conversation I've ever seen being taught in any school! They're broken into three books (modules).
Journey 1: Survival "Practical Thai for everyday life"…

The essential tools you need to survive in this country and go about your business independently. This coursebook covers the following topics:

Understanding the sound system and the numbers of the Thai language.
Introducing yourself, greeting and saying goodbye.
Getting a taxi and giving simple directions.
Buying street food.
Asking for directions inside a building.
Using public transportation and talking about locations.
Ordering food and solving difficult situations at a restaurant.
Buying clothes and describing colours, shapes and sizes.
Telling time and making appointments.
Getting a haircut and expressing degrees.
Buying things and using services at convenience stores.
Buying medicines and describing symptoms.
Solving communication breakdowns.
Talking about personal life.
Starting and holding a casual chit-chat in Thai.

Total number of unique words: 764
Core vocabulary (essential words): 584
As you can see these first 15 lessons teach you the survival Thai you'll need. It provides a great foundation vocabulary which you will build on in the subsequent modules. In many ways learning a language is like building a house. IF you don't start with a good foundation your house will be rickety and unstable. It's the same with learning Thai, a good solid foundation is needed to build on.
Journey 2: Conversational "The basics of communicative Thai"…

Develop your understanding of the Thai language and learn to say exactly what you want to say. This coursebook covers the following topics:

Expressing frequency, quantity, and number-related concepts.
Describing things using adjectives and expressing degrees.
Expressing similarities, differences, and comparing things.
Understanding the concept of Thai time expression.
Talking about people's appearance and personality.
Describing directions of movements and changes of things.
Expressing perceptions, emotions, and feelings.
Talking about your skills and abilities, and the limit of them.
Giving instruction, expressing order or events, and describing purpose of things.
Making requests and commands.
Offering suggestions and expressing opinions.
Describing actions and consequences, causes and effects.
Making guesses and talking about probability.
Expressing likes and dislikes.
Talking about future plans, expectations and hopes.

Total number of unique words: 602
Core vocabulary (essential words): 497
This book is where you take the survival Thai from the previous module and start the building process from basic to more advanced structure. You learn to construct more complex sentences as well as how to sound more like a Thai when you say things. This last point is critical when trying to get Thais to understand you. The more you can say things which Thais are used to hearing, the better their comprehension of what you're saying is.
Journey 3: Fluency "Real Thai in cultural context"…

Learn about different aspects of Thai culture to help you speak Thai in a natural way with confidence. This coursebook covers the following topics:

Extended family and kinship terms.
Social status and its impact on Thai pronouns.
Understanding "face" and "greeng jai".
Regions of Thailand and Thai dialects.
Thai food and table etiquette.
Buddhism in Thailand.
Ghosts, spirits, and superstitions.
Thai ceremonies and rituals.
Thai festivals and national holidays.
Thai entertainment, arts, and pop culture.
Formal Thai in formal situations.
Understanding "sabaai-sabaai" attitude.
Thai slangs, idioms, and proverbs.
Thai pride, and an introduction to Thai history.
Cross-cultural topics and discussions.

Total number of unique words: 607
Core vocabulary (essential words): 402
In reviewing the material in this book I was taken aback at just how many "fox-paws" (faux pas) I've made here in regards to the way I speak Thai (which I call "Todz-Thai"). I was shocked at how little I let Thai cultural restrictions during interactions affect how I speak Thai. I almost felt sad (for a second), for some of the Thai people I've interacted with over the years. Reading this book certainly gave me a much deeper understanding of language's cultural aspects. It made me see that in order to really understand how the language works you need to invest a good portion of time understanding Thai culture which impacts how the language is used.
Duke Language School: Journey 1-3…
The books are character and situation driven, which is a trend we're starting to see by more and more thai language schools. What sets this material apart from the rest is the supplemental material which is interspersed within each lesson. They touch on everything from culture, fun facts and interesting tidbits of how the language goes together. In all the years I've been touring Thai language schools, this is some of the best material I've ever seen.
It also seems that they're not resting on their laurels with just these books and have plans for more – Explore 2, 3, and Discover. Explore 3 in particular, is all about learning Thai through media, e.g. Facebook, blogs, ads, emails, letters, articles, songs, video clips, movies, etc. It's contemporary and shows how Thai is used in a multi-media context today. As far as I know, no other Thai language school has such a course. Explore 3 will be the link that connects the Journey series (speaking) with Explore (reading & writing) before moving on to Discover (the advanced levels).
I'm behind this paradigm shift in how Thai is taught to foreigner 100%. Gone are the pages and pages of straight text and in its place are interesting, relevant, contemporary presentations of the Thai language to non-native learners.
Three thumbs up!
Tod Daniels | toddaniels at gmail dot com
Reviewing Thai Language Schools in Bangkok
(BTW: Tod is NOT affiliated with any Thai language school)