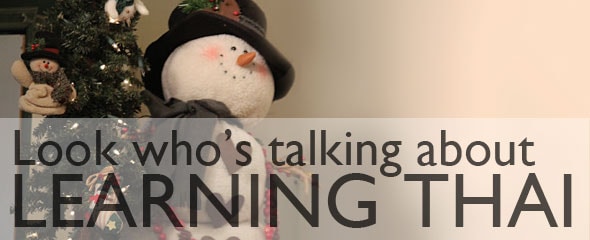 Who's talking about learning Thai…
Well, here we are in 2011. Finally. Some of you might not know this, but I've been either out of Bangkok or Thailand for the best part of November/December, with chunks taken out of September/October too. So now you know why I haven't spent a whole lot of time commenting. It's crazy, but travel + Internet is still not as modern as we'd like it to be.
After my return, I spent the first day of the new year – 1.1.11 – taking care of two sick cats and a sick man. When the vet stopped by to give the cats shots (yes, in Thailand, vets do make house calls) we agreed that the cats had most likely taken sick from the stress of being in kennels for so long. My bad.
I've had cats for yaks ages, but this was my first experience around cats with colds. So 1.1.11 saw me picking up wadded Kleenix off the floor from the man, as well as chasing behind cats with the same. The details? Don't ask. But I just might gross you out in a future post. Promise.
Anyway…
WLT's generous contributors …
I'm going to start off with the fabulous contribution by Thai Skype teacher Khun Narisa, and that's Thai Culture: Understanding Kreng Jai. I wrote the post, but Khun Narisa was ever-so-patient explaining the concept of kreng jai. And as it's an important part of Thai culture to wrap your head around, it's needed. Trust me on this.
Next up is the informative post by Sua noy, Khmer Influence in Thai. When I first started researching the beautiful Thai script I walked right into a hairy discussion of the Ram Khamhaeng Controversy. I was quickly warned off, but that didn't stop my interest in the controversial subject as it makes Thai history even more intriguing, not less so. So another thanks goes to Sua noy.
Towards the end of the month, Hamish Chalmers (Tweet Yourself Thai) explained the workings of Polyglot, a Google Chrome Extension. And I'm proud to announce that Hamish has agreed to write a Tin Tin series on WLT. It's fabulous stuff, so please stay tuned!
There were two interviews in December, and both involved the courageous Aaron Le Boutillier (Le Boutillier Group): Interviewing Successful Thai Language Learner: Aaron Le Boutillier and his memories shared in Remembering Tsunami 2004: And Then One Morning. May we never forget.
Note: If you would like to contribute posts and/or if you have a talent for Thai, please contact me.
December: Who's talking about learning Thai…
Andrej: Bakunin Learns Thai (no longer online)
Andrej continues to be on a roll with 'The Series Method'. Andrej hired Thai Skype teacher Kruu Ladawan to record basic instructions, so if you are interested, please contact Kruu Ladawan for a set of your own.
Anothai Dara: Anothaidara.com (no longer online)
For all you lovers out there, there are four songs in Anothai Dara's December stash: 'Kae Yahk Ja Bauk [Just Want to Tell You]', 'Dung Fan Chun-Dai [Just Like a Dream]', 'Ruk Took Reu-doo [Love for All Seasons]', 'Mai Roo Ja Ah-ti-bai Yahng Ngai [Don't Know How to Explain It]'. Sweet!
Brett Whiteside: Learn Thai from a White Guy
In a short post from Brett we hear about Abstaining Waste. It is sooooo typically SE Asia. Love it!
Chris: chris_thai_student
In How to start learning a language, Chris starts the post off with Mod (newest addition to the Thai language learning community), and then rolls out excellent advice for learning languages. The notes in his second post, Stream Languages In, are especially aimed at those not living in Thailand.
Memory tricks for words makes a point I agree with: The mnemonic is a patch, to help cover a few sticky situations nothing more. As I've mentioned many times before, when I learned the Thai alphabet I used 60 Minutes Thai. I found 60 Minutes invaluable for getting the alphabet plus classes into my head, but to become comfortable with the Thai alphabet I had to continue on from there.
Hamish: Tweet Yourself Thai | twitter: @AjarnPasa
Already mentioned in my post, Happy New Years… Resolutions to all…, is Hamish's post, Tin Tin's Adventures, in Thai. Tin Tin is great because the story lines march along, holding my interest.
Are you a fan of Bird McIntyre? Well. I am. So on New Year's Eve I was chuffed to see Hamish's Happy New Year สวัสดีปีใหม่, with YouTube video included. Ta Hamish!
Josh Sager: Let's Talk Thai (formerly Learning Thai)
For December, Josh has Product Review: Pimsleur Thai. If you are considering acquiring the package, it's absolutely worth a read. And if you have questions, Josh is sure to leave his door open.
Note to language bloggers living in Thailand: Pimsleur has a policy of reaching out to bloggers (good business practice) but they don't ship outside of the US (bad) or to language bloggers living in Thailand who are visiting the US (confusing). For Thailand, maybe they figure that we already have a pirated copy from Pantip Plaza? Psst… there is sure to be a map around here somewhere… 😉
Martyn: Beyond The Mango Juice
I am so very proud to annouce Martyn's first Thai language post: Sanook Singmat and Look Tewadah – เพลงลูกเทวดา. Martyn's post went live when I was out of the country, so I didn't get a chance to watch the video until now. It's all good.
Palmisano: Thai Blog
If you are a beginner at learning Thai, then these are for you: Ifs, Ands, and Buts, Think Too Much, How to say 'I' in Thai, How to say 'Yes' in Thai, What is a Thai Unit Word? (be sure to check out the Thai unit word song), and Gaan and Kwaam. All but two have accompanying videos.
Richard Barrow: Using the iPhone in Thailand (no longer online)
Richard wrote two Thai iPhone app posts with a kids theme: '5 Bilingual Talking Books for Thai Kids' and '5 Free Educational Apps for Thai Kids'. Thanks Richard!
Snap: Learning Thai In Chiang Mai
I was in transit when Thai Grammar went live, so I wasn't any help. But others were. Nice! To script or not to script is a question most Thai language students are faced with. I'm quite biased. Are you? And Transliteration obliterations made me smile because I have SO been there.
Snap's last post for 2011 is about yours truly: Win a Thai Dictionary iPhone App. That's right. I have FOUR of the most fabulous Thai iPhone dictionaries to give away on the fourth. And if I get a good enough response, Chris says I can give away more. So, as they say in Thailand… up to you.
Talen: Thailand, Land of Smiles (no longer online)
In December, Talen came out with a 'Thai Fonts' download pdf. It's totally handy for those confusing moments when you are trying to figure out what Thai letter turned into a U or a C or or or…
Terry Fredrickson and Jon Fernquest: Bangkok Post, Learning From News
As it's the end of the year, I've chosen three timely posts: EDIT … Apologies, the Bangkok Post has taken them offline.
Podcasts about learning Thai…
This month, instead of Rikker in the Thai language seat on Bangkok Podcast, we have the knowledgable Hamish Chalmers from Tweet Yourself Thai. It's a beaut so be sure to give a listen to Episode 32: Thai Language Series 8: Hamish Chalmers.
To celebrate, Hamish even created a special post for Greg and Tony: Bangkok Podcast.
Bloggers who sometimes tweet more than they blog…
Bloggers who bounce between twitter and blogging:
Ajarn Pasa: Tweet Yourself Thai | twitter: @AjarnPasa
Ajarn Pasa is one of the few here who gives twitter and blogging equal time.
Kaewmala: Thai Women Talks | twitter: @Thai_Talk @thai_idioms
Kaewmala is a political gal at @Thai_Talk but also shares needed insights on the Thai language at @thai_idioms and @lanna_talk.
Rikker Dockum: Thai 101 | twitter: @thai101
Rikker sometimes blogs, sometimes podcasts, but mostly twitters.
Who's doing all that Thai twittering…
The (mostly) complete Thai twitter list:
@AjarnPasa
@andrewbiggs
@English4thai
@js100radio
@ikimmim
@lanna_talk
@literallythai
@stu_jay
@Thai101
@ThaiAlive
@ThaiShortNews
@thai_idioms
@Thai_Talk
Note #1: The full list of both twitter people and bloggers can be found here: Thai Language Bloggers. Again, let me know if anyone is missing.
Note #2: I started this post all arrogant like because I was in good health and the rest of the house were not. But by the time I made it down to here I started sneezing and coughing and complaining, which is guaranteed to result in copious drams of whisky being drunk. By someone. Drat. Darn. Double drat.
Until the January 2011 version, enjoy…