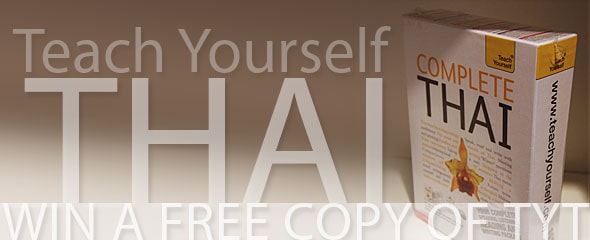 David Smyth updates Teach Yourself Thai …
Only a handful of Thai courses are highly thought of, and David Smyth's Teach Yourself Thai is at the very top of that list.
When I asked polyglot Stu Jay Raj which books he'd recommend to students of the Thai language, David's Teach Yourself Thai was the only course mentioned. And if you remember, Luca Lampariello (another polyglot), explained how he uses the series for his method described on WLT: An Easy Way to Learn Foreign Languages. There are many more kudos aimed at TYT, but I'll stop here for now.
A heads up: Due to David's generosity, I ended up with an extra boxed set of Complete Thai: Teach Yourself Thai. If you want to win one of your own, please read on.
Teach Yourself Thai: Contents…
When I sit down to write a review, I first check the contents to see what's on offer. And skimming down the list below, you can see that Teach Yourself Thai is designed to continuously reinforce each lesson.
What you will learn: Overview of the lessons.
Dialogues: Thai script and transliteration that follow along with the audio files.
Quick vocabulary: Newly introduced words.
Insights: Language and culture tips from the author.
Key phrases and expressions: Important phrases studied in the lesson.
Language notes: Grammar usage pertinent to the lesson.
Exercises: Questions to solidify the lessons into your brain.
Reading and writing: Practice studying the Thai alphabet, vowels, tones, etc.
Reading practice: Practice reading the Thai script previously studied.
Key points: Outline of the main elements of each lesson.
To make sure the necessary subjects are covered, I also spend time with the chapter contents.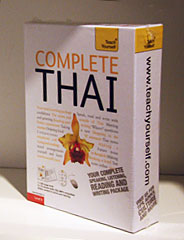 Meet the author: A brief background on David Smyth.
Only got a minute, five minutes, ten minutes?: Crash course on Thailand and the Thai language.
Introduction: A bit more about the Thai language, as well as how to use the course.
Pronunciation: Introduction to a tonal language.
Lesson 1: How to say hello and goodbye, polite particles, addressing people, low class consonants, vowels, 1-10.
Lesson 2: Your name, your nationality and place of origin, confirmation seeking question: chai mai, what questions, mid class consonants, vowels, 11-20.
Lesson 3: Job conversations, where questions, location words, possession, live and dead syllables, 21-101.
Lesson 4: Polite expressions, yes and no questions, mai and ler, location expressions, low class consonants, vowels, vowel shortener.
Lesson 5: Taxi talk, how much questions, using can: verb + dai, hesitation device: gor, high class consonants, 1000-1,000,000.
Lesson 6: Buying food at the market, asking what something is called, asking someone to repeat a word, question word + nai, yes no questions: ler and na, script review.
Lesson 7: Shopping transactions, polite requests: kor + verb + noy, how questions, classifiers, colours, continuous actions, tone mark: mai ayk.
Lesson 8: Ordering food, polite requests: kor + noun, reu yung, questions, alternative questions: X rue Y, location words: krun and tahng, two different uses of dooay, mai toh, and other tone marks.
Lesson 9: Names of dishes, would like to: yak ja + verb hai, getting someone to do something, using can, verb + bpen, if sentences, verb + lairo, low class consonants, vowels.
Lesson 10: Talking about your knowledge of Thai, verb + bpen + adverb, why questions, comparisons, mai koy – tao rai, using not very, words beginning with consonant clusters.
Lesson 11: Kin terms, asking how many, asking who, nah + verb, less common consonants, vowel shortener.
Lesson 12: Talking on the telephone, talking about the future, ja + verb, when questions, polite requests: chooy + verb + noy, verbs for saying and thinking with wah, seeking advice and making suggestions, miscellaneous spelling rules.
Lesson 13: Coping strategies for when you don't understand, to know: sahp, roo, roo jack, use of hai to mean for, names of letters, using a Thai dictionary.
Lesson 14: How to talk about living and working in Bangkok, talking about things that happened in the past: keree + verb, ways of intensifying adjectives and adverbs, more uses for gor.
Lesson 15: Making travel arrangements, to visit: teeo and yee um, expressing distance between two places, telling the time, questions about time.
Lesson 16: Booking a hotel, days of the week, rue bplao, questions.
Lesson 17: Looking for accommodation, gum lung ja + verb, negative questions, relative pronouns, months and seasons, dates and ordinal numbers, hai: to give, mai dai + verb.
Key to the exercises: Answers to the lessons.
Appendices: Consonant classes, Vowels, summary of tone rules, taking it further.
Thai-English vocabulary: Roughly 400 words.
English-Thai vocabulary: Roughly 400 words.
Grammar index: Page numbers to locate the grammar rules discussed in the lessons.
I'm not going to go over each aspect of the course, but I would like to bring up the above mentioned 400 word vocabulary list.
The early stages of learning a tonal language such as Thai can be rough because everything is new. But with learning most any language, we are told that communicating at a basic level is possible with a bare bones vocabulary of 500. Fine. I buy that. Sort of.
But here's the thing… where do we start with Thai? I'm bringing up this because, unlike with other languages, there is no such list available for the top 500, 1000, 2000, or 3000 words even, that one must know to get by in Thai.
Bottom line: David's course is designed to teach students how to use 400 of the most commonly used Thai words (yes, I peeked – and yes, there are more than 400).
So there you go. The top 400 must know Thai words = an important selling point of David's Teach Yourself Thai Complete.
Going for the quotes…
For comparisons, I do have the earlier version of Teach Yourself Thai. But instead of explaining the differences to you, I thought it more beneficial to ask David Smyth for a run-down of his updated work.
The new version of Teach Yourself Thai (called Teach Yourself Complete Thai) is, at 358 pages, rather longer than the previous edition (242 pages).

I like to think that there have been a number of improvements. The first and second editions had 2 long dialogues in each unit, which was the standard format for all Teach Yourself language books. The result was that the dialogues were rather long and sometimes contained too much vocabulary and grammar for the learner to take on comfortably in one section. In the present edition, most units contain 3 or 4 shorter dialogues which, I hope, makes the content easier to absorb.

Another significant difference is that Thai script is now included in the language notes, with example sentences now appearing over 3 lines, in Romanized Thai, followed by Thai script and then English translation. This means that there is now more Thai script in this edition than the previous one. By covering up one or two of the lines, users can use the examples to test themselves on their reading and writing. I was really pleased that the publisher recognized the value of this revision, even though it is not the most efficient use of space on the page.

Other changes include revised 'insight' notes, a 'key points' section at the end of each unit, more pronunciation exercises, replacing some unwieldy dialogues (e.g getting to the Reno Hotel in a samlor, and buying four 12-baht stamps) and updating with words like 'internet' and 'Suvarnabhumi.

No matter how many times you proof read a book like this, there are always misprints and errors that slip through. If any users notice errors and care to inform me at I will try to ensure that the corrections are incorporated in future reprints.
Btw: David's interview on WLT can be read here: Successful Thai Language Learner: David Smyth.
Polyglot Geoffrey Barto from Multilingua (and others) recently wrote a review of the Teach Yourself Complete update.
With Teach Yourself Complete, it feels like some real strides have been made. There seems to be more emphasis on content and doing something with it and less emphasis on puzzling things out by means of vocabulary lists.

If you take up the whole package – text plus CDs – and load the CDs on your iPod, you wind up with a fairly handy program for learning [ ] 5-15 minutes at a time. If you're short of time, you can do one dialog. If you've got half an hour to kill, you can make it halfway through a chapter. In either case, you should start by listening, then turn to the book to make sure you've understood. In this way, for the first time, you can really use a Teach Yourself course to learn a language by ear while having a text as a fallback, instead of the other way around.
And as Sophie (regular visitor and fellow hermit) is presently learning Thai via TYT, I asked for her opinion as well.
I cannot say enough positive things about Teach Yourself Thai by David Smyth. I have been trying other resources and I have to say this one works the best for me and is my absolute favorite. It is the one I will be using. Why? Because it is so wonderfully well written, clear, and easy to understand.

I love the way the lessons progress and build upon each other. He puts it all together as far as the study course. Read, write, listen, and repeat, repeat, repeat. The audio is clear and easy to understand and I love the voices of the people he chose to use. If I don't care for someone's voice it is extremely hard to listen to them. I like the way he gives you a road map of how to draw the letters. I love how he explains everything so well and it is actually interesting to read and certainly helps one grasp the reason behind it all. I am so new to learning Thai but his book truly makes me feel like I can definitely do this.
How to improve this course…
As I mentioned – or did I? – I believe that Teach Yourself Thai is one of the top courses for beginners of the Thai language. But even so, improvements can be made.
Thai script: Even with the increased amount of Thai script, more could be added.
Binding: The binding of the book did not last long (either that or I'm awfully hard on books).
Audio: In addition to the present audio files, audio without English speakers would increase the usefulness.
If I were to shoot for the moon, I'd also like flashcards with sound, online games, etc, to compliment this course.
Now, this next point I'm making is not about improving the course, but a heads-up. The transliteration targets some British speakers and you might be confused when the audio files are not what you expected. So when you come across fuzzy spots, perhaps write down what you believe you are hearing? Just a thought.
Where to buy Teach Yourself Thai Complete…
When Teach Yourself Thai Complete first arrived in Bangkok, it was the book only (no boxed set with audio files). A few weeks later, the entire package appeared at Kinokuniya. It was total weirdness back then so I'm guessing that the delay was due to the Red Shirts taking over our shopping district.
For online stores, Amazon has the product at their UK branch: Complete Thai: Teach Yourself (Book/CD Pack).
Now about that contest…
When I decided to review Teach Yourself Thai, I bought a copy at Paragon. And when I contacted David for a quote, I was sent another copy (thanks TY!) And now one of those copies is up for grabs.
To be included in the draw, the rules are simple.
You need to leave a comment(s) below.
The comment(s) need to be reasonable.
Each comment gets counted, so go ahead and leave as many as you like. But the comments must add to the conversation as well as pertain to this post. So 'cool' 'great' 'rad' on their own do not count as comments. Nor does, 'this contest is really really fab and I really, really, really, wanna win a copy'.
The draw will run a week and be over on Thursday morning, 8am BKK time. I will number the reasonable comments and email the total to Kaewmala (Thai Women Talks). Kaewmala will throw the numbers into a beautifully coloured bowl, stir them around a bit, select one, and then announce the winning number in the comments below. Ajarn Pasa (Tweet Yourself Thai) will come in with the name that matches the winning number.
And that's it really. If this draw goes well, I will consider a repeat as I'm sitting here with dual copies of a number of Thai courses and resources.