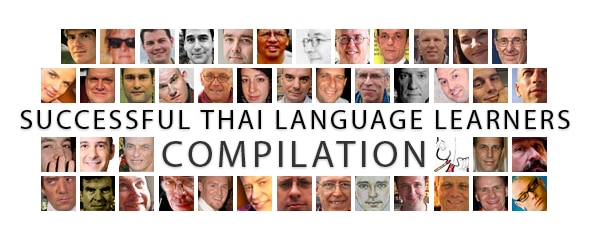 Did you stick to a regular study schedule?…
When it comes to a regular study schedule, I land in the not so regular pile. I work on WLT most days of the week (including weekends) but what I do isn't traditional language study. Confused? So are the Thai teachers in my life. They love what I'm doing but aren't really sure what to do with me.
I did manage to stick what could be called a study schedule during my 30 Day Thai Language Challenge, but over the following year I slid softly back into my slacker ways. Excuses? I have many. You?
Scanning through the answers below I counted eight no's, three straddling the middle ground, and the rest were a resounding YES. So the YES's have it this round.
Aaron Handel
Aaron: My schedule was determined by chance. Initially, I was not really learning Thai, but learning how to learn. I was collecting information. Whenever I would meet a Thai person who was kind enough to help me record a tape, I would seize the opportunity. Usually, I would also make a tape in English and share it with that Thai person.
Aaron Le Boutillier
Aaron: Not so much a study schedule but I am disciplined enough to leave a dictionary in the bathroom, a Thai comic next to my bed, Thai twitter on my BB and surround myself with as many opportunities as possible to practice.
Adam Bradshaw
Adam: 2 hours every morning and then throughout the day I would try to avoid speaking English as much as I could.
Andrew Biggs
Andrew: Yes I did. I was incredibly disciplined. I learnt the alphabet, then the tone rules, and then ten new words a day for at least a year. Then I went to Ramkhamhaeng University to study a degree in Thai. All the time I was working a full time job – sometimes two full time jobs.
Celia Chessin-Yudin
Celia: I have tried to speak everyday since I came to Thailand first.
Chris Pirazzi
Chris Pirazzi: Yes, in fact I was almost the only student ever in the history of the informal Sunday school Thai class to actually do the homework and use flashcards to drill the language.
Daniel B Fraser
Daniel: No – I've never had one but can certainly appreciate the benefits of one.
David Long
David: Yes, I attended classes regularly for 7 hours daily, Monday through Friday.
David Smyth
David: Yes. It was part of my degree course, the class was small and I was highly motivated. Like most language degree courses at the time, there was much more emphasis on reading, writing and translating than on speaking, although I did spend a good few hours in a language lab, doing drills like those in Marvin Brown's AUA Thai Course and listening to comprehension passages.
Don Sena
Don: It wasn't very regular, as I could only do it when not assigned duty. Even now, my study isn't really very regular.
Doug
Doug: Yes.
Gareth Marshall
Gareth: Ah, sadly a goal I have never been able to achieve.
Glenn Slayden
Glenn: Khru Pikun's class used the J. Marvin Brown AUA series which I found dry but very effective. The class was conversational and I remember a healthy amount of speaking–repeating back until Khru Pikun was satisfied. I made flash cards and used a micro-recorder to listen back to parts of the class. We also didn't forget to have fun, with group dinners at local Thai restaurants and socializing.
Grace Robinson
Grace: Yes, when I was studying, with regular tests and exams to keep you on your toes and so that progress could be monitored.
Hamish Chalmers
Hamish: My only schedule was and is to try to speak, read and listen to as much Thai as possible every day.
Hardie Karges
Hardie: I did for 2-3 years, at least an hour a day.
Herb Purnell
Herb: When we got to Thailand, we were sent straight to Chiangrai and were assigned to work one-on-one with a tutor. After the initial period of having a set schedule with the tutor ended, the rest of my learning Thai was what I got on my own. Except that once, returning from a year in the States and feeling the need for some refresher instruction in Thai, I had three months in Bangkok with a very good tutor. By then I could go at my own pace. And in order to pass the Thai government's Prathom 4 equivalency exam as it was required in 1980, I took a one-month intensive prep course at a language school.
Hugh Leong
Hugh: My only formal training was that initial 3 months with the Peace Corps. I just like to talk and listen to people so that is what I did. Currently I am studying by writing an Advanced Thai Reading and Vocabulary Building series. At first it was for me alone. I had been teaching myself to read Thai newspapers and I compiled and organized these notes. I then thought that they might help others, especially learning new vocabulary, so I put them together and offer them for free download.
Ian Fereday
Ian: Yes, daily classes of 2-3 hours with an experienced teacher, practice and review in the evening with my wife (a very patient teacher), and used Thai at every opportunity. Drove my wife crazy reading every signpost, menu, business card and leaflet I found.
James (Jim) Higbie
Jim: I used to study Thai in the morning and spent free time and weekends reading. That was before the internet, so there weren't so many distractions.
Joe Cummings
Joe: Peace Corps language training was six hours a days, six days a week for three months. At Berkeley, I kept a typical grad student schedule, with daily in-class discussion, a ton of Thai homework, and a lot of late-night drinking sessions with Thai students at UH, many of whom had fled Thailand in October 1976.
John Boegehold
John: Yes and no. I still go to both the Saturday and Sunday classes at Wat Thai every weekend which helps keep me disciplined. The first 90 minutes is mostly for beginners so I just put my ear buds in and study on my own by reading various books, Thai newspapers, watching Thai YouTube videos on my iPad, etc. until the intermediate / advanced class starts. Outside of that I don't really have a set schedule because my workload varies so much from day to day. I do try to study every day, even if it's only a few minutes.
Jonathan Thames
Jonathan: Since much of it has been formal study, yes. But since I now have part of my life in Thailand and have relationships with Thai-speakers, I use Thai daily – through music, chatting, emails, forum posts, translations, prose, movies, etc. So in that sense, not so much regular as constant.
Justin Travis Mair
Justin: As a missionary I had a 2 months intensive course(8 hours or more a day) all in Thai. After that I would would study Thai 30 mins every morning. Then I would spend the rest of my day full immersed in Thai, talking to Thais or just studying in the 5 mins I found I was free. Basically, my life was a constant language study.
Larry Daks
Larry: Yes.
Marcel Barang
Marcel: Yes. I studied intensely for two-three years. A few years later, I got married locally, which helped a lot: Thai became my first language in daily life. Still is.
Marc Spiegel
Marc: Yes.
Mark Hollow
Mark: It was only since leaving work that I was able to start learning seriously. On returning to Bangkok I immediately signed up with a private language school.
Martin Clutterbuck
Martin: I had a period of about 6 months when I was in an English teaching job when I had a Thai person able to help check and feedback on what I was doing.
Nils Bastedo
Nils: Unfortunately, no. I have learned new vocab only through use and there has been little structure to my studies, which is of course not very good. As a language teacher teaching 4.5 or even 6 hours per day, I must also admit that my energy for learning Thai was at a low point after returning from work. When in Thailand, I did not associate much with Westerners, which was good, but as an English teacher I did not speak as much Thai as I would have liked at work.
Paul Garrigan
Paul: I can get periods where I manage to have regular times for studying each day. These productive periods can last for a few months before life interrupts.
Peter Montalbano
Peter: Generally, I do, even when not studying formally. I review vocabulary and try to memorize everything, like everything, completely, spelling and all. And I do some reading aloud from the many books I have, and some reading of newspapers. I generally spend at least an hour per day on this. Why am I not เก่งกว่าที่เห็นตัวเองเป็นนะ ก็ไม่เข้าใจ? Just that this language is really hard to completely master for a Westerner, even one with an ear and experience learning languages.
Rick Bradford
Rick: Yes. It is a very rare day that I don't do some formal study. Depending on how busy I am, my daily study could be anywhere from a minimum of 20 minutes up to 2 hours.
Rikker Dockum
Rikker: At first, yes. I was in the classroom setting on a very regular schedule for two months. Then for several more months I did about an hour a day of explicit language study — tone drills, going through vocabulary lists, memorizing the consonants and practicing reading.
Ryan Zander
Ryan: When I was a university student I was pretty good about getting all my Thai homework done. But since I stopped taking formal classes my study has been much more sporadic.
Scott Earle
Scott: Not even close. I never really have, I am afraid to say.
Stephen Thomas
Stephen: Once I started classes, yes. I have a regular schedule of 2 nights a week, which really isn't enough, but it allows me to go off and do films or plays, then come back.
Stickman
Stickman: Along with studying at the local temple every Sunday, I also worked my way through the Linguaphone course. It's a really well-structured course which builds vocabulary, gives basic grammar instruction, develops listening skills and helps with pronunciation and even reading and writing although I did not work through that part of the course as I had already learned to read and write at the temple.

I was disciplined and would study for an hour a day after work, Monday to Friday. I never missed an hour! I cleared a desk in a spare room, set it up, and studied there. I had meticulous study habits and making it a routine worked well for me. Missing a day would be like a gym freak missing a day of exercise.
Stuart (Stu) Jay Raj
Stu: It was my life.
Thomas Lamosse
Thomas: Yes, But I made a commitment right away to only speak Thai in Thailand. If I did not know how to say something in Thai, then that was something that was not important for me to talk about.
Tod Daniels
Tod: I used to early on. I'd set a block of 2 or 3 hours and just review vocabulary, etc. But now, not so much. I do carry a notebook/pen to jot down words I'm unfamiliar with to look up later. Doing nothing here helps too, as I can study or review when ever I want to. In fact I'm so busy doing nothing all the time I'm gonna buy a day minder!
Tom Parker
Tom: Learning Thai at university meant that a regular study schedule was unavoidable, but I think the amount of extra work I put in really paid off. In the first year of studying Thai I was absolutely determined to master the language and studied it obsessively, that helped give me a good foundation in Thai which I think still pays off today.
Vern Lovic
Vern: At first I did – during breakfast, during lunch, and in the evenings I'd be rattling off the notecards. I haven't formally sat down to study Thai since 2006.
The series: Successful Thai Language Learners Compilation…
And here you have it, the rest of the series: