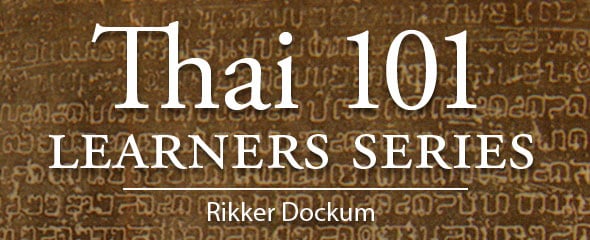 Introducing Rikker Dockum…
If you hang around the Thai language forum scene – thaivisa.com, thailandqa.com, and thai-language.com – then you'll already know about Rikker from Thai 101.
If not, the below should clear things up fairly quickly for you.
Rikker Dockum is a linguist and Fulbright grantee researching the ancient Thai language. Or, to be more precise, Rikker is studying the stone inscriptions of the Sukhothai period, known to be the oldest Thai writings around.
So just what is Fulbright all about?
Cies.org: The Fulbright Program is the flagship international educational exchange program sponsored by the U.S. government and is designed to increase mutual understanding between the people of the United States and the people of other countries. With this goal as a starting point, the Fulbright Program has provided almost 300,000 participants chosen for their academic merit and leadership potential with the opportunity to study, teach and conduct research, exchange ideas and contribute to finding solutions to shared international concerns.
Just last year Rikker put his knowledge towards a beginner Thai series for the hard copy version of Phuket Gazette. Not wanting to see it languish out of sight, we received permission to share it here.

Advertisement
Introducing the Thai 101 Learners Series…
As I mentioned in my post, A Year's Worth of Women Learning Thai, this week sees the start of Rikker Dockum's Thai 101 Learners Series.
So for the next 16 weeks Rikker will explain the basics of the Thai language: Pronunciation, vocabulary, grammar, and more…