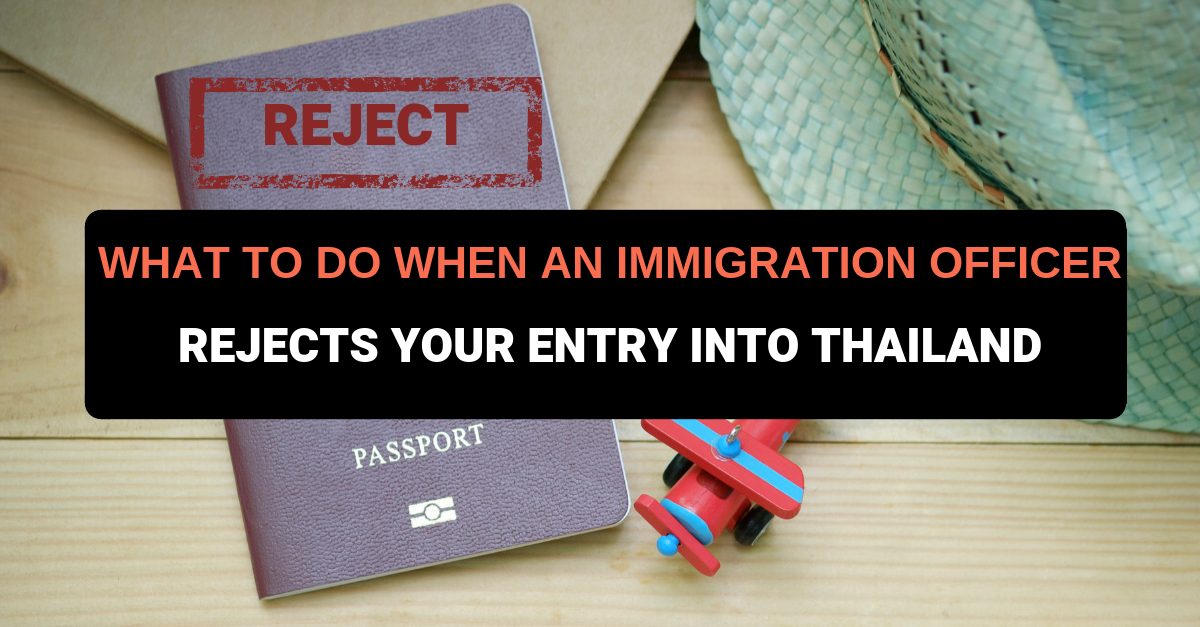 You may have read online about people living in Thailand longterm with tourist visas.
They say they just need to leave and come back when the visa expires.
They do this for many years and don't encounter any problems.
But then you try it. And an immigration officer rejects your entry despite having a tourist visa.
You can't enter Thailand. But you still have your belongings here. What should you do then?
Not all hope is lost. There's a way to get into Thailand again.
But first, a word of warning.
You run some risks staying in Thailand longterm on a tourist visa and doing visa runs. Thailand is becoming much stricter about this.
If you want to stay in Thailand longterm, it's better to get the proper visa.
As the name suggests, a tourist visa is for traveling—not living—in Thailand.
When an immigration officer denies you entry into Thailand, there are three steps you should take.
1. Contact Airline
The first thing you need to do is contact the airline you flew to Thailand with.
Based on immigration laws, when you're rejected from entering Thailand, the only airline that can fly you out of the country is the airline that flew you in.
And they will fly you back to where you came from.
For example, if you fly from Hanoi to Thailand with Thai Airways, you need to fly back to Hanoi with Thai Airways.
But if you can't go back to your country of origin for whatever reason, you can talk to the airline and ask them to fly you to other country instead.
As long as you can pay for the ticket, you shouldn't run into problem flying to other countries.
Thai immigration officers don't care which country you go to. They only want you to leave Thailand.
One important point to remember is that airlines won't accept cash. You need to pay for tickets online.
If you can't do it, ask a friend or family member to do it for you.
2. Fly to Laos or Malaysia and Enter Thailand by Land
You should fly to either Laos or Malaysia because:
they allow many nationalities to enter their country under their visa exemption policies
you can apply for a visa on arrival at the airport if your nationality isn't visa exempt
you can enter Thailand by land through these countries
Thai immigration at the border between Thailand and Malaysia or Thailand and Laos is less strict than immigration in other parts of the country.
There are reports of many people being able to enter Thailand easily by land, even after getting rejected by Thai immigration at the airport.
Depending on your nationality, you can stay in Thailand for 15 days under the visa exemption policy.
And you can extend your stay for another 30 days once you're in Thailand.
Whatever you do, don't fly back to Thailand at any cost. When the immigration officer sees that you got rejected on your previous attempt, they will automatically rejected your entry.
However, remember that everything depends on the immigration officer's decision.
They might only give you seven days. They might not let you extend your visa exemption.
Or they might not allow you to enter the country at all.
3. Get a Proper Visa
Fortunately, you can come back to Thailand.
But this is a temporary solution. If you leave Thailand, there's a chance that you won't be able to come back again.
Instead, you should find a way to get the right visa. An education visa is a good option for anyone.
If you can't get an education visa, it's better to ship everything back to your home country, leave Thailand, and come back again with the right visa.