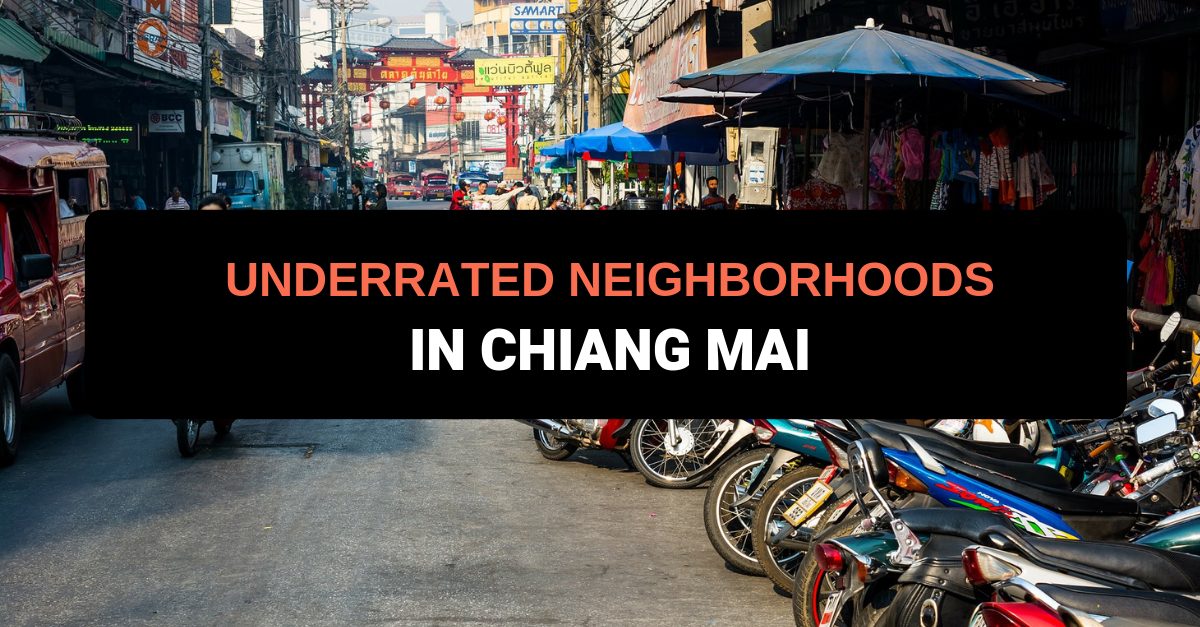 Chiang Mai is the second biggest province in Thailand and covers many different geological areas. Whether you'd like to be in the heart of the city or on the outskirts in the suburbs, you'll have no problem renting an apartment in an area that suits your lifestyle.

In Chiang Mai, you have three areas that offer a good deal.

Your first choice is around the city center, which is surrounded by the Old City Moat. It's the busiest part of the city and has many tourist attractions, department stores, night markets, and clubs.
Because the area is so convenient, you won't need your own car of motorcycle to get around. In Nimmanhaemin in the Mueang Chiang Mai District, for example, you'll find hundreds of condos and apartments for rent.

Your second choice is renting an apartment just outside the city limits in Hang Dong, Mae Hia, San Kumphaeng, or San Sai. It's a lot quieter in these areas, making it a great place to live, especially if you have a family.

You can rent a house in these areas for around 10,000 baht a month.
Your third choice is further away from the city and the surrounding area, way out in the rural areas of Chiang Mai. Usually, only Thais rent in these areas.

You won't find many of the conveniences of living in the city. And unless you speak Thai, you'll have a hard time adjusting. So it's best to skip these rural areas.

Nimmanhaemin
You'll find a lot of restaurants, cozy cafes, and malls in Nimmanhaemin, one of the more popular areas in Chiang Mai. You'll also find a lot of co-working spaces here.

So if you're a digital nomad or moving to Chiang Mai for the first time, Nimmanhaemin is a great place to start. You can find condos for rent starting at 8,000 baht. Look at places like 103 Condominium, Hillside Condo 3, OnePlus Condo, and Promt Condo to get started.

Hang Dong and Mae Hia
Around nineteen kilometers from Chiang Mai's city center is Hang Dong and Mae Hia. Since both of these districts are surrounded by nature, you'll find they're popular with expats, are quieter than other places in Chiang Mai, and have locals that are quite friendly.

And for those who travel a lot, Hang Dong and Mae Hia are only between seven and twelve kilometers from Chiang Mai International Airport. You can find two-bedroom houses in these areas for less than 8,000 baht a month.

San Kamphaeng
You can check out San Kamphaeng if you're looking for the next hot spot in Chiang Mai. Lots of new developments are going up each year.

Although San Kamphaeng is thirty kilometers from the center of Chiang Mai, it's only seventeen kilometers to Promenada Mall, which is where the immigration office is. You can find three-bedroom houses for as low as 7,000 baht a month.
San Sai
If you're looking for a three-bedroom house for under 5,000 baht, check out San Sai, just South of the city center of Chiang Mai. The area is less developed than San Kamphaeng but it's only twenty-three kilometers from the city center.