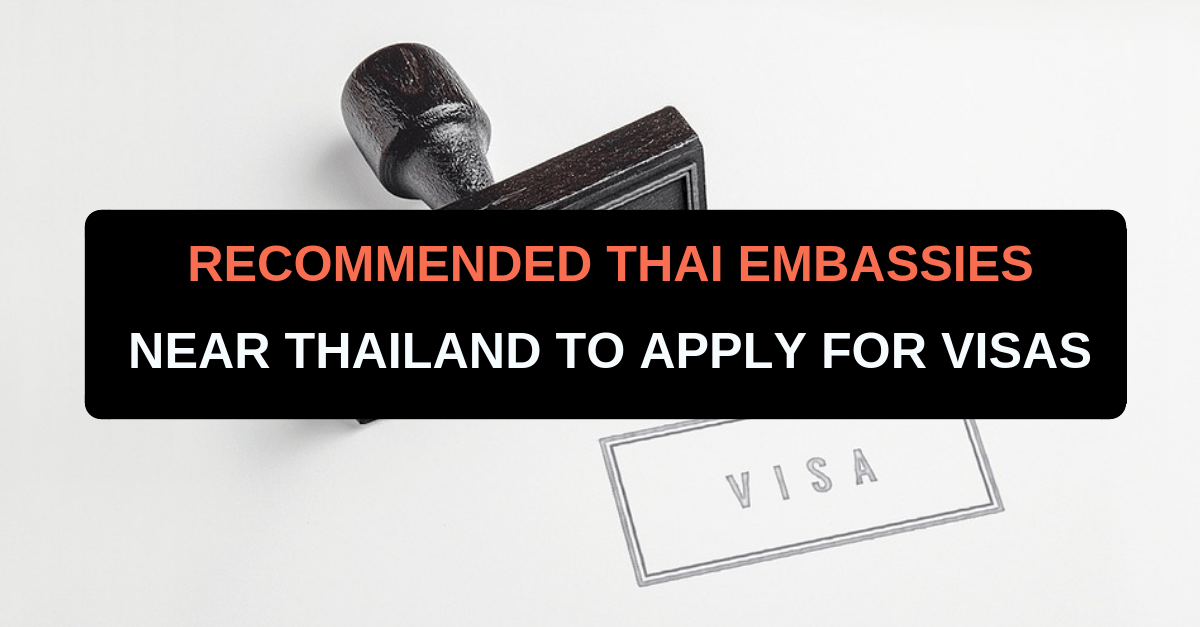 Each Thai embassies is different when it comes to issuing visas. They have different procedures to approve your visa. Some embassies might require different documents than others.
In this guide, you'll find out which Thai embassies near Thailand you should go to when applying for visas.
Malaysia
When applying for a Non-immigrant B Visa at the Kuala Lumpur Thai embassy, it's usually painless. You can apply in 20 minutes. But you may have dissimilar experiences.
There are long queues snaking through the narrow gate of the embassy compound. But it's not as crowded as the Vientiane embassy.
The consulate is easy to find. Most taxi cabs know how to get there. But make sure you have the documents with you before you go because there are no photo studios or photocopying centers nearby. If you forget a copy of a document you'll have to search far and wide to find a copy center.
Applying for a visa in Penang is a pain-free experience, provided you have the documents, including proof of onward travel and proof of a hotel booking.
This couple's experience with applying for a visa in Penang was easy. There are agencies in Georgetown that can help you apply for a fee.
Singapore
The Royal Thai Embassy in Singapore is known for being fast and efficient. Assuming you have the required paperwork, it's possible to get your visa by the next afternoon.
The main drawback of the Royal Thai Embassy is Singapore is their strictness. You may need to show the copies of your airline tickets and proof of onward travel, which must be an airline ticket.
Although they have long queues here, there's an officer who will pass along the line and verify your paperwork. This can save you a lot of time.
Always be polite here, and your visa will be processed smoothly.
Laos
Vientiane is a popular choice among foreigners applying for a visa as the Thai embassy in Vientiane is quite accommodating. It's also the closest Thai embassy.
There are six border crossings between Thailand and Laos, with the Nong Khai-Vientiane border being the most popular.
Thai visa service companies have scheduled trips to the Nong Khai-Vientiane border, which is an eight- to nine-hour van ride.
Not as popular as the Vientiane Thai embassy, the Savannakhet Thai Consulate is another choice to apply for visas.
Visa applicants have reported experiencing being asked to show proof of funds and onward travel when applying from this consulate. On Migrationology, this guy's explains how to apply perfectly.
Cambodia
Although most expats in Thailand prefer to go to Vientiane in Laos, the Thai embassy in Phnom Penh is a serviceable alternative. Note that you have to stay in the country for at least three days and two nights while your Thai visa is being processed.
Thai embassy in Phnom Penh also often asks for proof of funds, proof of onward travel, and proof of a hotel booking.
Philippines
Unlike the other embassies, the Royal Thai Embassy in Manila is crowd free. But it's a three-hour flight from Bangkok and not an ideal place to apply for a Thai visa unless you're there.
Some of the less popular places for doing Thai visa runs include Hanoi and Ho Chi Minh, Vietnam; Yangon, Myanmar; Hong Kong; and Bali, Indonesia.
You need the same documents for Thai consulates in these countries and they are worth considering if money isn't an issue. This list of Thai visa run choices provides a rough estimate on visa run costs.