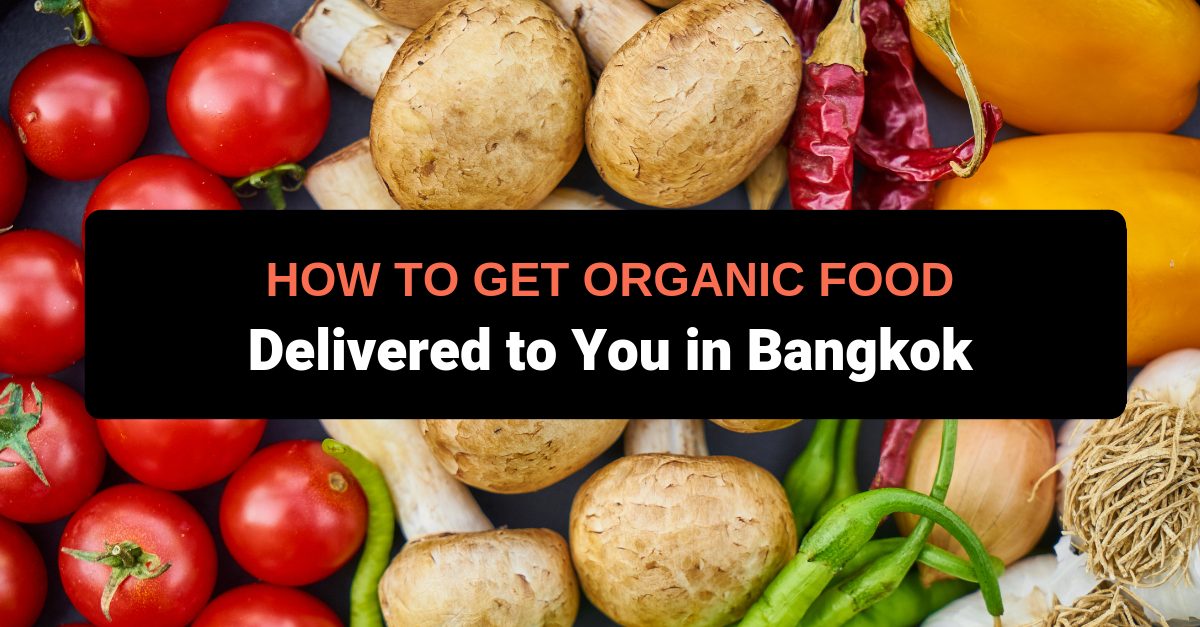 This is the bonus content from our Organic Food in Bangkok article.
If you're too busy to buy organic food at farmers markets or supermarkets in Bangkok, having it delivered might be a better choice.
Co-Ops
Buying organic food from co-ops is a great way to support local farmers in Thailand. Here are a few co-ops you can buy organic food from and that will deliver to your door.
Raktham Co-Op Group
Raktham organic co-op focuses on delivering fresh local produce, eggs, meat, and seafood.

They carry mixed-salad vegetables, sweet and regular potatoes, green papayas, watercress, sets of herbs for tom yum soup, bananas, starfruit, pineapple, watermelon, pork meat, snapper, and shrimps.

With their freshness and quality of food and service, Raktham is one of my favorite organic delivery co-ops that I support every week. My favorite items that I always order from them are pork meat, eggs, and fruit.

I spend around 800 baht to 1,000 baht every week for a delivery of: 1-kilo snapper, 30 eggs, 1-kilo of ground pork or ribs, and some seasonal fruit like avocados, pomelo, and dragonfruit.

If you are interested in getting a weekly food list, please send an email to Khun Benjaporn at [email protected].

Plus Organic
Plus organic co-op delivery is a good deal if you want to buy large amounts of produce at cheap prices.

Some of the produce they carry is broccoli, carrots, cauliflower, romaine lettuce, potatoes, celery, beets, and bell peppers.

The minimum order is at least one kilo for each type of vegetable. For example, if you want broccoli you have to order at least one kilo.

Our family does a lot of juicing so we always do weekly orders from Plus Organic. To get an idea of how much it cost to order from them, here's an example.

Our weekly order is:
five kilos of carrot at 60 baht per a kilo
one kilo of beetroot at 80 baht per kilo
one kilo of broccoli at 150 baht
one kilo of Japanese cucumber at 150 baht
one kilo of Chinese broccoli at 60 baht
one kilo of plum tomatoes at 60 baht
one kilo of red bell peppers at 220 baht
10 limes at 50 baht
Not bad for 830 baht.

If you order over 2,000 baht of goods you get free delivery. For anything below 2,000 baht you have to pay a 150-baht delivery charge.

One way to avoid the 150-delivery charge is to pick up your produce from a meeting point like Max Value.

If you are interested in ordering from Plus Organic you can contact Mr. Pattana on his Plus Organic Facebook page.
Websites
You also have the choice of ordering organic food through some websites. Here are a few websites to get you started.
Orgbox
Orgbox is a good choice for those who are vegetable and fruits lovers as they provide many organic options.

First, you can choose to order individual seasonal produce. You can find organic fruit and vegetables that are hard to find in supermarket like lemon, curled kale, lacinato kale, and fresh pepper.

Second, you can order sets of vegetables and fruits weekly, monthly, or quarterly. Some interesting sets that I like are:

The detox set for 699 baht
You get 2.5 to 3 kilos of broccoli, garlic, lemon, cabbage, turmeric, ginger, and some other leafy vegetables

The juicing and smoothie set for 699 baht
You get 2.5 to 3.5 kilos of broccoli, spinach, carrots, cucumbers, kale, bananas, and pineapple.

If you're looking some organic fresh produce to use as baby first food, Orgbox provides sets of Organic baby food set for 599 baht.

These sets have cucumber, carrots, pumpkin, spinach, broccoli, and seasonal fruit like avocado and papaya.

Orgbox also carries some other interesting organic products like organic honey, organic mulberry tea, and green and red curry pastes.

Paleo Robbie
Paleo Robbie is a good choice when you want to have clean, fresh meals delivered to you on your busy days.
Paleo Robbie delivers fresh cooked food daily and uses quality ingredients like organic produce, non-antibiotic free-range poultry, non-pasture-fed meats, and wild caught fish.

You can order from Paleo Robbie once or make a weekly meal plan.

Every Wednesday, Paleo Robbie offers 24 new dishes on the weekly menu so that you can plan your meal in advance. You can check out the menu on its website.

For each day's menu, you'll have a choice of four main dishes and eight side dishes to pick from
For instance, for main dishes, they have BBQ spare ribs with slaw and sweet potato, or wild salmon with wasabi avocado aioli and asparagus.

For side dishes, there's pumpkin mash, brussel sprouts and snap peas, and baby spinach salad. For side dishes, prices are between 93 baht 181 baht.

Prices for main dishes are between 375 baht and 499 baht for a single portion and between 749 baht and 499 baht for jumbo sizes.

The good news is that the delivery charge is only 60 baht if you live in a meal plan zone.

Paleo Robbie offers a wide selection of free-range, non antibiotic, non-growth-hormone imported and local meat like steak, chicken, pork, and lamb.

They also deliver fresh organic produce that is certified by Iform and USDA. You can order a weekly mix of seasonal produce for 695 baht or 795 baht.

But, if you want to order individual vegetables, Paleo Robbie carries vegetables that you might not be able to find at supermarkets, such as organic blue scotch kale, broccoli sprouts, Italian basil sprouts, and rucola.

While some consider Paleo Robbie's food expensive, I consider it reasonably priced and worth it because of the big portions, quality of food, benefits for your health, and time you save.

Good Karma-Health Food
If you're looking for organic plant-based products, check out this online grocery store.
Good Karma-Health Food offers organic dried ingredients, snacks, dried fruits, nut butter, and plant based protein powder, organic essential oils, personal products, and cleaning supplies
If organic certified products are your big concern, it's important to know that all organic products at Good Karma do not come in original certified organic packaging.
Many of them come in a package that the store packs themselves, without any organic certification. This is because they get some products through wholesale and repackage them.

Here are some interesting organics products that I like: fermented raw cacao nibs, teff grain, chlorella organic powder, and ashwagandha root organic powder.
Social Media
On social media you can order organic products through Me&Mom Organic Farm. They focus on growing their own organic vegetables and selling them directly to buyers
They grow Chinese kale, spinach, bok choy, Chinese watercress sprout, watercress, baby broccoli, Siberian and Italian kale, and lacinato and rainbow kale.
If you would like to visit the farm, the owner also opens it to the public as a learning center to learn the process of organic farming.

While organic vegetables are the main products at Me&Mom Farm, they also make other amazing items which use organic vegetables and/or good quality, fresh, and seasonal ingredients.

For smoothies, they use fresh watercress, celery, mints leaves, bananas, and papaya or apples.

For homemade salad dressing, they make many flavors like seafood, caesar, and thousand islands.

For baked goods, they make homemade organic banana whole wheat bread with organic moroney, vegan organic pumpkin whole wheat bread, and mixed berry yogurt banana scones.

They also make personal items like homemade organic soaps.

You can order packs of vegetables for 35 baht to 50 baht, or you can order by the kilo.

Salad dressings sell by the bottle. Small sizes are 50 baht and large sizes are 100 baht.
Because the farm is located in Ayutthaya, some items can be delivered to your place by Kerry Express, such as fruit jam, salad dressings, and homemade soaps.

Fresh vegetables, baked goods, and salad greens are only available only for pick up at any train station throughout Bangkok.

Please contact Khun Jib through her Facebook page or email her directly at [email protected]