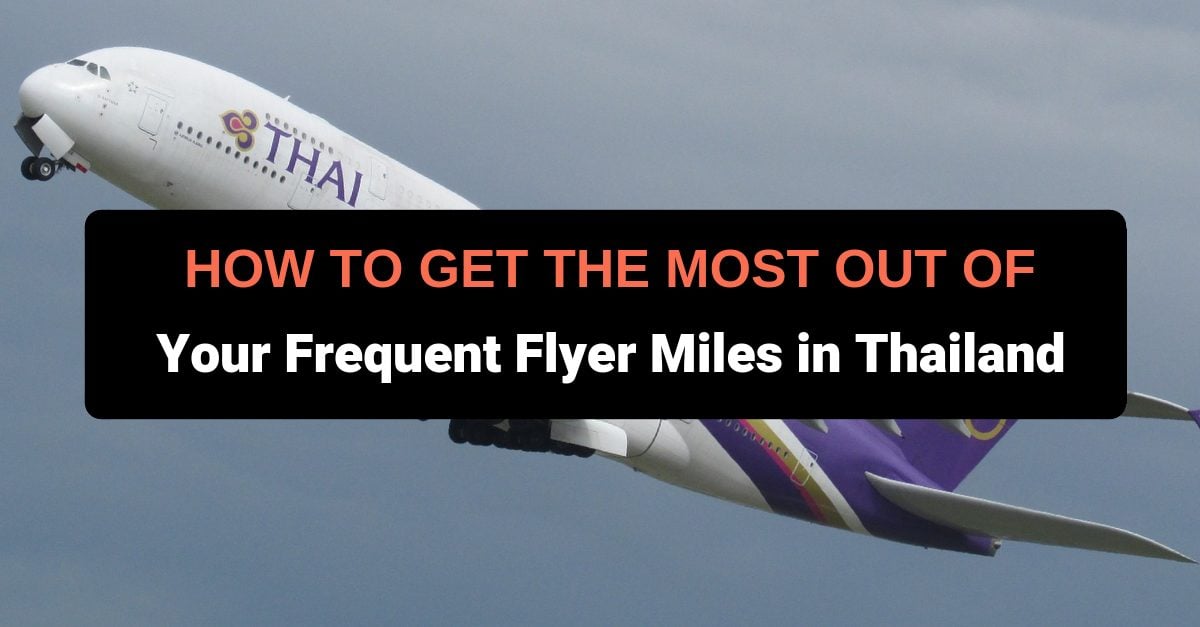 The difference between being an average traveler and an expert traveler is how you use your frequent flyer miles.
Here are specific strategies you can use to lower your costs for domestic flights in Thailand using your frequent flyer miles.
Thai Airways and Thai Smile
If you plan to fly with Thai Airways or Thai Smile a lot, applying for their mileage program, Royal Orchid Plus, gives you additional privileges such as free flights, priority check-in, priority reservation, extra luggage allowance, lodge access, and more.
Every time you fly with Thai Airways you earn points. You can redeem them by booking a room with a partner hotel online.
Once you make a booking, you'll receive an eVoucher via email. You can use your rewards points to get free nights and there's no limit on the number of consecutive nights that you can reserve.
With the Thai Airways Loyalty Program, there's a wide selection of hotels to choose from. Options include Grand Mercure Bangkok Asoke Residence and Novotel Bagngkok Bangna.
You acquire at least 500 miles for every domestic route while flying with Thai Airways. These miles can be redeemed for a free flight: 15,000 miles for a round trip within Thailand or 20,000 miles for Royal Silk Class; and 25,000 miles for flying between Chiang Mai and Phuket or 40,000 miles for Royal Silk Class.
If you are based in Thailand and have some expenses that you can pay by credit card, it might be worth looking into one of the credit cards that allow you to collect Thai Airways points.
If you not only pay restaurant bills by credit card, but also pay for flights, hospital bills and insurance payments, this can add up to a free flight.
Bangkok Airways
FlyerBonus is Bangkok Airways' mileage program. The membership status will stay active as long as you fly within any twelve month period.
Sign up for the FlyerBonus program and immediately get an extra 10 kilograms checked baggage allowance, making it 30 kilograms in total.
Once in awhile, Bangkok Airways has a FlyerBonus sale that can score you up to a 70% points discount. Usually the promotion is held in the middle or at end of the year.
AirAsia
Instead of a mileage system, AirAsia has its own loyalty points system called AirAsia Big Point.
It works the same way a credit card does. For every 20 baht you spend on AirAsia, excluding airport fees, VAT, and fuel surcharge, you get one AirAsia Big Point.
You can later redeemed these points for tickets, hotels, and other items.
To spend AirAsia Big Points, you should wait for promotional events, such as AirAsia Big Points Sale, where you can redeem even zero points for one ticket.
Remember, in this case you'll get very limited seating and routing options.
Since thousands of people access AirAsia at that time, the website tends to temporary shutdown. So be the early bird.
NokAir
Nok Air has its own loyalty program called Nok Fanclub, which has a 200 baht sign up fee. Anyone who is older than 12 can get a membership card called Nok Smile.
The benefits of joining Nok Fanclub aren't worthwhile though.
The only worthwhile benefit is that you get priority check-in at Don Muang Airport.
It's very difficult to get a free ticket unless you fly with Nok Air at least once a month.
International Flights
Due to a number of flights flying to Thailand, we are unable to cover all possible airlines. But here's a list of general tips that help you make the most out of mileage system.
Check airline alliances since many major airlines are a partner with one another with Star Alliance and One World being the top two
Use credit card points to redeem mileage. There are also certain credit cards that give you extra bonus on this.
Book a partner hotel. Before booking a hotel, you should check whether it's a partner with an airline or not. You can get mileage bonus on booking a right hotel and vice versa.
Redeem mileage during promotional events. Airlines regularly have promotional events at least once a year allowing you to redeem miles with at least 20% less point.