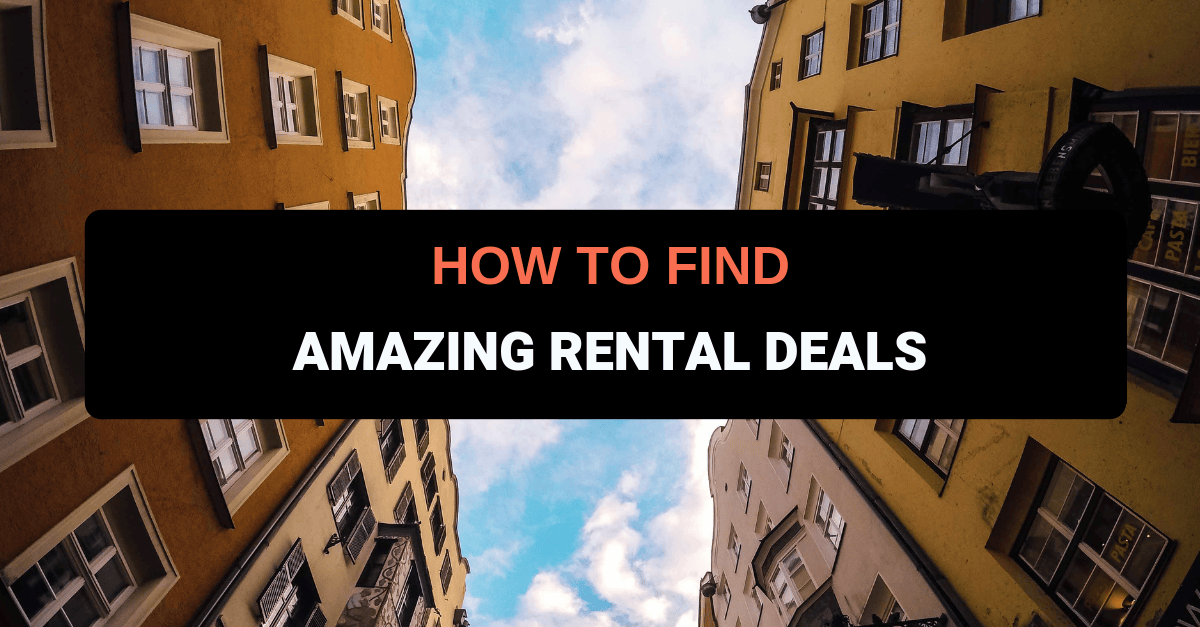 Although real estate searches have moved online, the best deals might not be found on a website, especially when searching in English.
The strategies below are recommended for newcomers and people already living in Bangkok but looking for a new place.
Deal Directly with Condo Owners
A lot of offers on real estate websites are dominated by agents. Sometimes this is clear from the get go, other times you find out when you show up at the place—especially with condos. And agents might not want to disclose the exact building or unit until you meet them.
If you don't want to deal with an agent because you're looking for a contract with a less than 12-month commitment, you can still use this to your advantage by searching for a place in your price range.
Then you can meet the agent, take a look at the place, and if it doesn't fit what you're looking for, walk around the building and neighborhood without the agent and see what else you can find.
That's where your real search for a deal starts. During your walk, keep an eye open for "For Rent" signs in front of condos, on doors of individual units, and on nearby streets nearby. If you can't read Thai, take pictures of any signs and phone numbers and ask someone for help later on.
Also, talk to the office staff at condos. Their first reaction will often be to refer you to agents or to show you a list of vacant units.
Some condo owners refuse to pay commission to agents and get omitted from those listings. If you're persistent in asking to see more units, they might pass you the details of one such owner.
The people who know about all the empty spaces in a building are the maids and sometimes the security guards. Having a Thai person talk to them while office staff isn't around often reveals those units that aren't mentioned elsewhere. And sometimes the owners actively involve the maids or guards in their promotional efforts.
Some owners advertise their vacant apartments on the notice boards found in the lobby or outside the corridors of some condo buildings.
These units are always missing from the vacant unit lists that get shown to prospective tenants. For you, that's a recipe for a great deal. Your advantage? Lower rent or shorter contract durations.
But this strategy doesn't work if all the units are owned by the same company and everyone pays the same price.
Hire Helpers
Another strategy is to hire a motorcycle taxi for half day and ask them to take you around an area with places that have vacancies.
Motorcycle taxi drivers tend to know the good apartments around that area. And these apartments may not advertise online.
Since this is not something motorcycle taxi drivers do on a regular basis, you might need a Thai friend to help explain what you want.
On the plus side, it means they don't have commission deals with the apartments. If you can find someone who can help you, it's pretty much a steal for the few hundred baht you'll pay the driver for a few hours of help.
Find Apartments
Apartments are a popular option for Thais who live on a budget. The rental cost is significantly lower than staying in a condo. But you get less accommodation in return.
Apartments may be small and only have the essentials like a toilet and some furniture. There are no swimming pools, extra rooms, or gyms.
Studio apartment buildings in Thailand are usually run by one owner. So all the apartments in the building are the same price. Bargaining for cheaper rent is not an option.
For example, apartments in key locations such as BTS Victory Monument cost only 5,000 baht a month on Ratchawithi Road.
But for a condo on the same road you'll pay over 15,000 per month. Since the price is competitive, you might have to pay a deposit a month in advance in order to get a room.
Apartments in Thailand tend to be located near certain locations, such as schools, universities, and community areas.
If you can find one apartment, it means that there's a big chance there are a few more. And these apartments rarely advertise online.
Hiring a helper is a good way to find apartments. But one final method for finding an apartment to rent is to use an apartment renting website like Thai Apartment. If there's an apartment listing in your preferred location, there should be a few more nearby.
Select Older Buildings
Go with a building that's eight to fourteen years old. Condos in Bangkok often lose value, and like used cars they can be yours for a discount. Part of this is a certain cultural aversion to used condos, the other part is the lack of maintenance.
At condo meetings, you might hear management saying they have no money left, and the mandatory seven-year cable replacement date for the elevator is coming up.
So if you go with an old building, you can save quite a bit. But you might want to take the stairs.
Look for Places that Have Been Empty for a Long Time
Owners of these properties are desperately in need of tenants since they haven't generated any income from the property for a while. They'll probably be willing to offer you a good discount.
If any condo you pass at night has only a few rooms lit up, there's a chance the building is quite empty.
Walk inside the office and ask for available rooms for rent. You might get a good deal.
Another strategy is to use a website like Prakard.com. Flip through a few pages to find the listings that have been posted for a few months or longer. These are your primary targets. Contact them.
Commute by Motorcycle Taxis
There's a significant "convenience" surcharge for condos located within two hundred meters of a BTS or MRT station.
If you move over four hundred meters away, prices drop. If you don't mind a short hike or a motorcycle taxi ride, this can save you a lot of money.
These condos might not be on the safest of roads, but for back alleys that lead to BTS or MRT stations where traffic proceeds at a reasonable pace, they're sufficient.
If you want to play things safe, just get your own motorcycle helmet. Whizzing through traffic on a scooter every day is one of those things in Bangkok you want to do with protection.
Avoid Unnecessary Parking Fees and Facilities
The run-of-the-mill nice condos come with a pool, sauna, gym, and parking spot. If you can make do without those, your choices expand a lot.
In fact, you might want to seek out places that don't offer the above. They'll come at a significant discount.
Negotiating Your Contract
You can get a discount of 8% to 20% on the quoted price, either in form of a lower rent or a free first month. Agents might not be thrilled about giving in on that, given that also means their commission is 20% lower.
It's best to talk about it when the homeowner is present, rather than just through the agent. It's also another reason why you might want to seek out a place that is offered by the owner.
If there's something missing, like a flat screen TV or a washing machine, this is also a good time to negotiate for that. Here's a good guide to negotiating for a place in Bangkok.