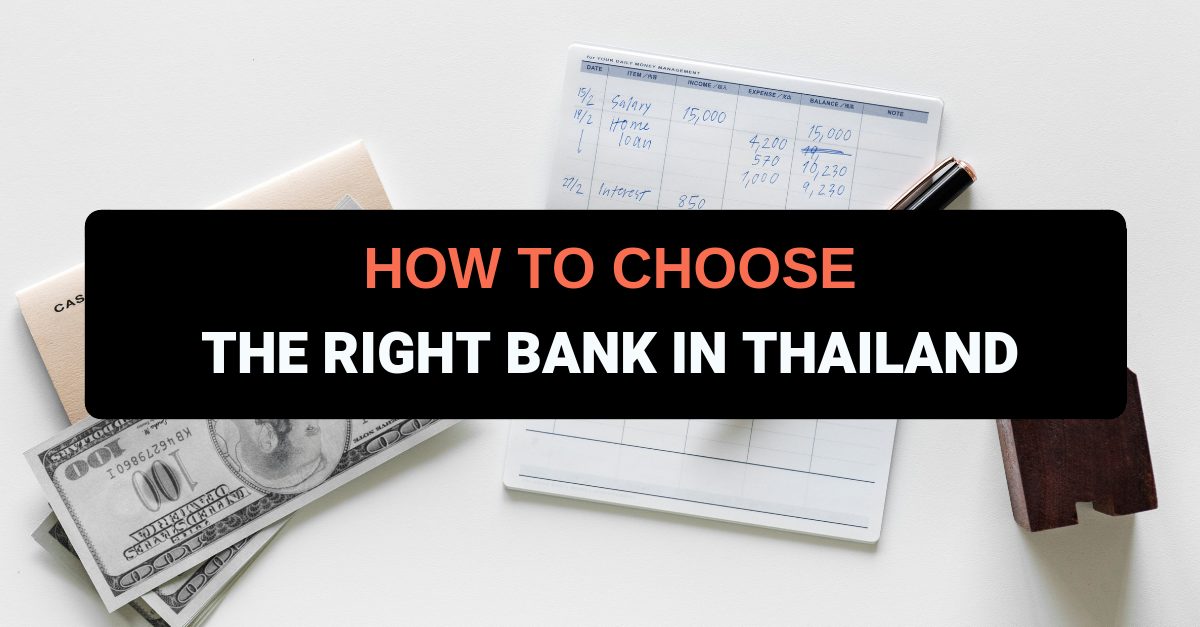 Not every bank in Thailand is the same. There are over ten banks to choose from.
So how do you know which one is right for you?
This guide will show you the pros and cons of each bank in Thailand.
Easiest Banks to Deal with
Easiest banks to deal with are Bangkok Bank and Kasikorn Bank. Those two banks are the easiest to work with and can cover 95% of all your banking needs, from savings accounts to credit cards and international transfers. Krungsri and Citibank are good as well.
Both hold a reputation as being easier to work with and more lenient with foreigners than other banks.
But they are not the only available choices. Depending on your specific needs and immigration status, different banks might be a better pick.
Kasikorn
Kasikorn, or the green bank, is the most popular bank in Thailand.They have the most branches and ATM machines of all banks in Thailand.
The best part about Kasikorn Bank is that you can find them everywhere in Thailand.
They have good support team that could be reached in many ways.
It is the go-to bank for many Thai people.
If you work in a Thai company, there's a good chance you'll need to open a Kasikorn Bank account to get your salary.
The downside to having an account at Kasikorn is that you'll often have to wait in long lines if you do your banking at a branch.
Because they're so popular, their branches are always crowded, both on the weekdays and weekends.
For Kasikorn Bank, the most foreigner friendly branch would be their branch on Sukhumvit 33. Kasikorn Bank is one of the easier ones to work with when it comes to credit cards.
They also give you a check book when you open an account with them. On the downside, there are a bit tedious to work with when cashing foreign currency checks.
SCB
SCB, or the purple bank, is another popular bank account for Thais.Everything they offer is quite similar to Kasikorn. But their branches are less crowded.
That means you won't have to wait in long lines when visiting the bank.
What sets SCB apart from other banks is their quickness in integrating new technologies and facilities to their banking system.
They were the very first Thai bank to use the QR code system to make and accept payments.
In addition, SCB is also good at partnering up with other service providers.
The most noticeable partnership is with AirAsia, which decreases airline ticket prices if you pay via SCB online.
Richard from Life in a New Country is a fan of SCB. Though experiences with them has been a bit mixed. Thais tend to like the bank for their sleek mobile app.
They also offer a stock brokerage account. It feels a bit rusty compared to what you'll find in other countries, but it gets the job done and transaction costs are cheap.
Bangkok Bank
The best part about Bangkok Bank, or the blue bank, is their international transfer process.They have branches in many parts of the world, including London, New York, and Tokyo.
When you transfer funds to the Bangkok Bank in that country, it'll be deposited into your Bangkok Bank account in Thailand in a matter of days.
This means you'll pay lower transfer fees and get better exchange rates than if you used other banks.
You can check this page to find out more information.
But the main drawback of Bangkok Bank is their poor support system. You usually have to wait 30 minutes to get in touch with them by phone.
And their bank branches are usually crowded.
In terms of specific branches, Bangkok Bank's main office on Silom road is mentioned as the best branch to visit

Krung Thai
Krung Thai, or the light blue bank, is a government bank. But the services offered is comparable to the service at private banks.The best part about Krung Thai is that you won't have to wait in long lines like at other banks.
A majority of people who have an account with Krung Thai are government officers, so most of Krung Thai's customers are at work during bank hours.
The main drawback of Krung Thai bank is their technology. Their online banking and bank application aren't intuitive or as useful as other banks.
But they're improving them every day.
Krung Sri
Krung Sri, or the yellow bank, is known for their monthly installment promotions.They regularly offer 0% monthly interest rates when you buy something with your Krung Sri credit card.
Another popular service from Krung Sri bank is their LTF.
Their KFLTF50 is known as one of the most popular LTFs on the market.
Government Saving Bank

Government Saving Bank, as known as Aomsin, or the pink bank, is another popular government bank.The main reason Thais open a bank account with Aomsin bank is because of their lottery.
They have a lottery account in which you get a lottery number for a 50 baht deposit.
If you win the lottery, cash is transferred to your account automatically.
The monthly first prize is worth of 10 million baht.

TMB
TMB is known for their ATM card, which you can withdraw money from any ATM machine in Thailand without having to pay the withdrawal fee.It's also the first bank that doesn't charge for a wire transfer to other banks with their account type All Free.
TMB also offers regular promotions that give their customers the best interest rates on saving accounts.
The main drawback of TMB is the availability of their bank branches. You'll normally find them only in big department stores.
Other
There are other banks that aren't mentioned here. They are more like specialized banks on specific issues rather than banks for everyday finance.
Which Bank Should You Use?
With all these banks available in Thailand, the next question would be: Which bank should you use?Assuming you have everything you need for opening an account, you can pick any bank from the list above.
All of them cover 95% of your banking needs.
A passport and a proof of address are commonly required for opening an account here.
Also, they might ask for any of the following documents:
Thai driving license
Thai house registration
your lease
letter of reference from a reputable Thai person, an embassy, a university, or a similar person or organization in high standing
letter from a company stating that you're in the process of getting a work permit
message from your home bank to the Thai bank via SWIFT messaging
If you're on a tourist visa or don't have any of the supporting documents, then your choices are limited.
Although each bank branch has different policy. So if you don't get accepted by Bangkok Bank on Sukhumvit, you can try another Bangkok Bank.
You should find one bank branch that'll let you open an account.
You can also read this article to find the easiest bank to open an account even on the tourist visa.