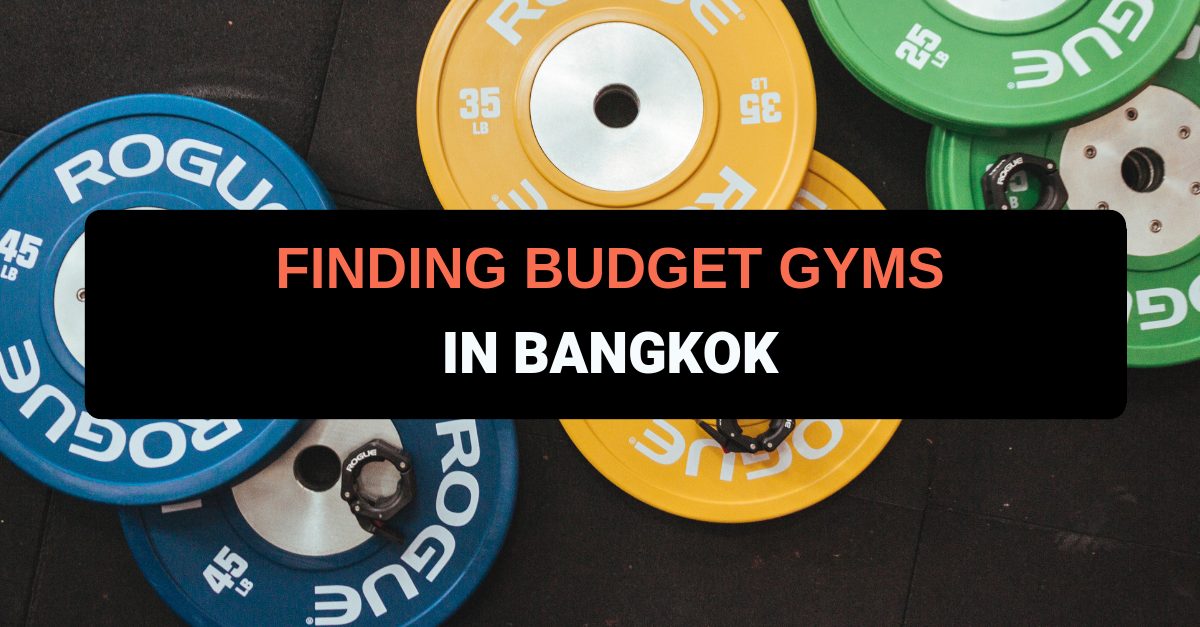 Even though Thailand is a lot cheaper than many European and North American countries for many things, fitness often does not seem to be one of them.
Monthly memberships in popular gyms surpass what you would pay back home. Every so often though, there are budget options and real bargains to be had.
If you don't mind putting up with a bit of a commute, you can join top-class training for free and some for about $1.10 a year.
Parks
While Bangkok doesn't have a lot of parks, there are a few choices that allow for decent workouts, especially before 7:00 AM or after 5:00 PM.Parks open as early as 4:30 AM with the last ones closing down at 9:00 PM.
A lot of parks have running tracks, and some even allow cycling.
Some parks have free workout equipment, though it's geared towards maintaining mobility rather than weightlifting or cardio.
The open air aerobics classes you see throughout Bangkok's parks from around 5:00 PM onward are a great budget alternative to subscription gyms.
It can be a bit intimidating to join these classes as the only foreigner, but Gaby Domain wrote down her own account which makes it seem a little less scary.
Sometimes local supermarkets also have an aerobics Meetup.
There's also Tai Chi groups that meet in the morning. Other groups meet in the evening, including a ballroom dancing group that meets at night in Lumpini Park.
Most of the activities you can discover by going for a stroll at the right time through the park.
Cardio activities are held in the evening, while everything focused on mobility, flexibility, and spiritual well-being is held from 5:00 AM to 7:00 AM.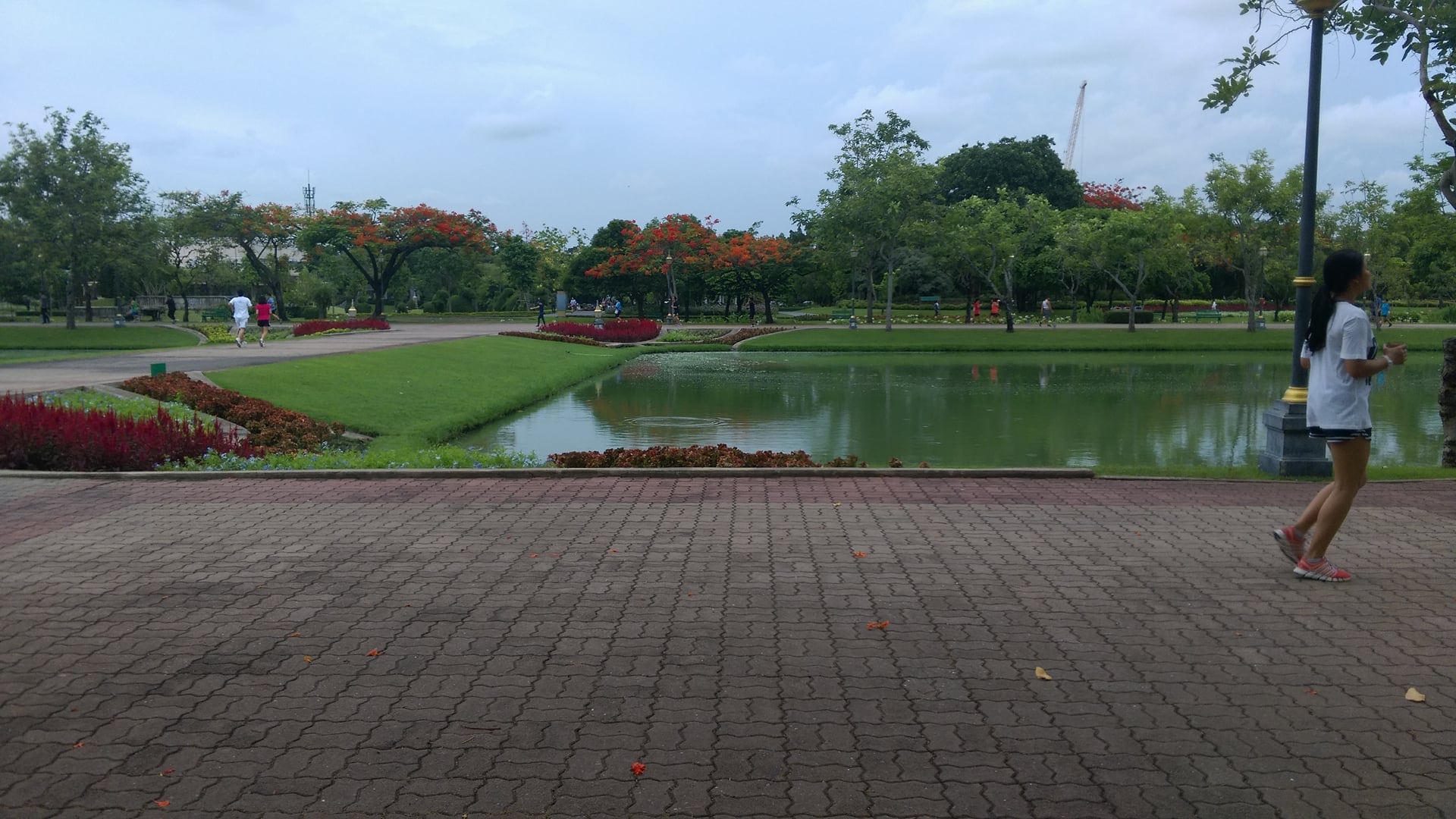 University Facilities
Some universities offer sports and fitness centers that are available for use free of charge.The most prominent is the Chulalongkorn University Sports Complex which is near MRT Sam Yan.
If you live outside of the city, check with your local university to see if there are any facilities you can use.
Meetups
On meetup.com, you'll find groups meeting up to exercise together.Most Meetups tend to charge a small fee or request donations in the range of 100 baht to 200 baht.
Meetups are a good way to explore activities like beach volleyball or yoga.
And they're a good way to meet new people, regularly workout, and discover new parts of the city.
There are also some free meetups. Bangkok Runners is one of the biggest.
Of course, you can also start your own group, which is now easier than ever.
You can find exercise partners on Thaivisa Sports forum, Bangkok Expats, Thailand Expatriates DMK, or Bangkok & Expats Forum.
Home Sweet Home
A lot of apartment buildings in Bangkok have gyms that you can use free of charge if you live there.Usually these gyms are of similar quality to what you find at a hotel gym: some dumbbells, resistance training machines, and some cardio machines.
You can check out this guide to renting in Bangkok for some help on finding a place that offers gyms.
If your place doesn't have a gym, one of your friends might have access to one at their building and can take you along.
A lot of people would love to have a workout partner to keep them accountable.
Ask around on Facebook and you might be surprised who's up for some regular non-boozing activity.
If all else fails, there are also YouTube workout programs that require little-to-no equipment.
Thailand Starter Kit readers swear by the fitness workouts from Shelly Dose, Scooby the "German" Bodybuilder, and Fitness Blender.
Other workouts include Yoga with Adriene and Do Yoga With Me, which the subscribers at /r/Fitness recommend.
Youth Centers
At 40 baht per year, youth centers are among the best fitness deals you can find in Bangkok.In spite of the name, they're open to anyone, locals and foreigners alike.
People don't often use them because they have fewer locations, shorter opening hours, stricter dress codes, and a longer signup process compared to other gyms.
Sign Up Requirements
one, 1.5 inch photo
a copy of your passport
medical certificate issued by any hospital or clinic in order to use the pool
20 baht to 40 baht membership fee
Gym's Dress Code
shirt with sleeves
long pants
clean and dry sneakers to change into
your own towel
Pool Dress Code
Staff don't like seeing people in baggy beach shorts. Speedos are your friend.
Lumpini Youth Center
The Lumpini Youth Center in Lumpini Park is the cheapest air conditioned, centrally located workout option in the city. It's also one of the newest ones having been completed in recent years.
Opening Hours
Monday to Friday, from 7:00 AM (pool) or 8:00 AM (gym) until 7:30 PM
Saturday and Sunday, from 8:00 AM to 5:30 PM
Holidays: same as Saturdays and Sundays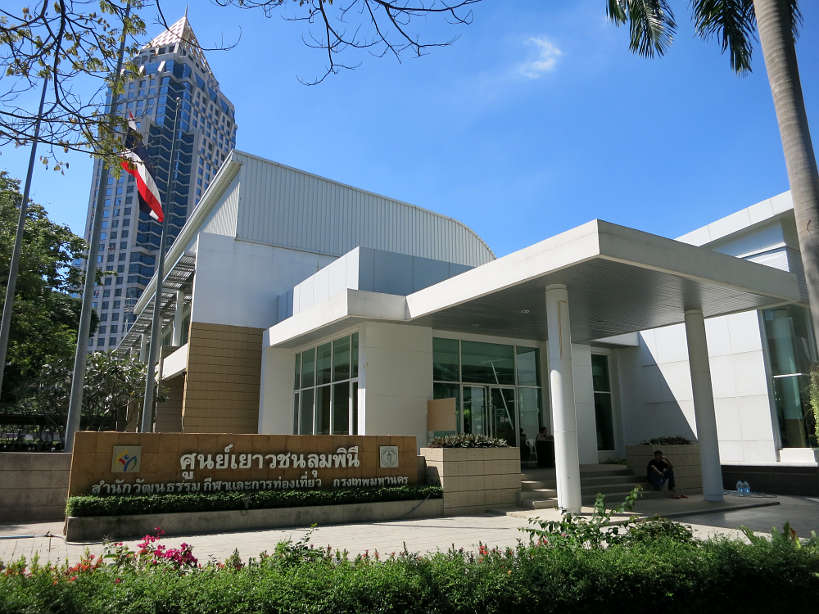 Khlong Toei Youth Center
The Khlong Toei Youth Centre has a swimming pool in Benjasiri Park that's open from 10:00 AM to 7:30 PM, though it's a bit of a peculiar system.They have time slots at 10:00 AM, 1:00 PM, 2:30 PM, 4:00 PM, and 6:00 PM that each last 90 minutes.
For every time slot you're present, you have to pay 15 baht. So staying from 3:45 PM to 4:30 PM would cost 30 baht.
Sometimes there are school classes there. You want to avoid the 6:00 PM time slot since it gets busy.
Yearly fees, sign up requirements, and dress codes are like the Thailand Youth Center at Lumpini Park.
Thai-Japanese Youth Center
The Thai-Japanese Youth Center is another 40 baht per year option.Even though its location halfway between Victory Monument and Central Rama 9 is a bit out of the way from public transport, it makes up for it in facilities.
They have a well-equipped gym, an Olympic-sized pool, squash courts, and a stadium with a football field that has a running track around it.
Unlike the more basic gyms in Lumpini and Benjasiri Park, the facilities at the Thai-Japanese Youth Center exceed what gyms and sports clubs offer.
While some of the equipment is a bit older, the place offers a comprehensive set of training facilities.
The fastest way to get there is a motorcycle taxi from the Rama 9 subway station or the Victory Monument skytrain station.
Small Scale Gyms
Universities and youth centers aside, the cheapest workout facilities tend to be the small scale indoor and outdoor gyms scattered throughout the city.Good for doing freeweight workouts or using some cardio machines, these are a decent upgrade over your own building's or hotel's facilities.
There will be plenty of treadmills, elliptical machines, barbells, dumbbells, squat racks, and similar equipment at these gyms.
Indoor gyms come with showers and lockers and are often in townhouses near residential areas.
The cheaper choices will be without air conditioning or even have outdoors gyms, so be prepared to get a good sweat going.
These kinds of gyms also make up the majority of places that offer day passes. Depending on location, prices tend to vary between 100 baht and 400 baht per day.
But monthly prices tend to be between 700 baht and 2,000 baht.
The easiest way to find a gym in this category is to ask the local motorcycle taxis on your street for fitned, or fitness.
There are a few budget chains like Fitness 7 and Tony's, which offers an amazing deal on a yearly membership, but most of them are single branch gyms.
If you are looking to join classes or travel a lot, you can also check out GuavaPass.
It's a month-to-month subscription that allows you to join the classes of any of their partners.
There are a lot of smaller, independent, and higher end gyms in Bangkok that are part of Guava.
Offered programs range from AquaBiking and CrossFit to Yoga and Zumba.
The downside is that you can't go to the same class more than three times a month.
Gyms use it as a marketing tool and will try hard to upsell you when you come in on a GuavaPass.