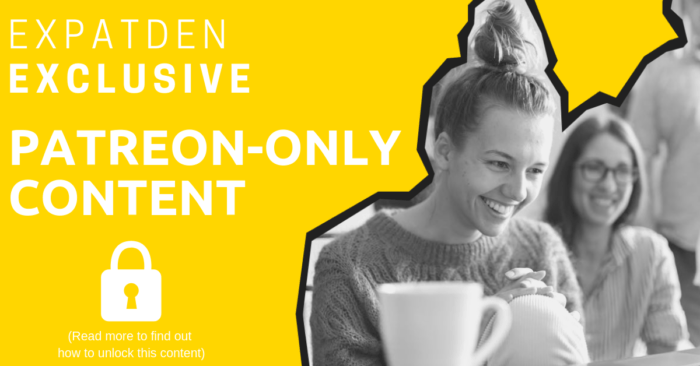 This page includes all the exclusive content for readers who support us on Patreon. It contains the most practical advice to help you set up and live your life as an expat in Thailand.
The main difference between our exclusive content and the guides on our website is that our exclusive content leads you step-by-step and points out directly which solutions you can use for any challenge you face in Thailand.
For example, if it's about finding work, we point out the exact places you could check out for specific job industries. If it's about visas, we point out to the exact visa you can get.
If it's about hospitals, we point out the hospital you can go to that provides great medical treatment at great rates.
Keep in mind, this is not all the exclusive content we have. We add new content every month that gives you insider advice you won't find on ExpatDen or anywhere else.
We also offer a personal assistant, meetups, and advice to higher-tier supporters.
To get access to this exclusive content, support us on Patreon and choose your tier.
Doing so helps ExpatDen continue to exist, create and publish free, longform guides on living, working, retiring, and starting businesses in Thailand without ruining your reading experience with ads and banners.
$200 Tier – Personal Assistant
We don't know what else to thank you for with this amount of support. So, if you need our help with anything, tell us. We will send you our personal assistant. If you're in Bangkok and you need help with something that we can handle, we'll send a member of our team to help you.
You can find our email on this page and use it to get our personal assistant.
$50 Tier – Get Your Business Going
This is the tier for business owners. You get access to our exclusive business content with insider business tricks that can't be found anywhere else.
That's not all. We plan to host meetups in Bangkok to get the members of this tier together with us, fellow entrepreneurs, and other people who can help you run a business here.
$30 Tier – Virtual Assistant
In this tier, we act as your personal virtual assistant, providing any answers you need for life in Thailand. We summarize all interesting questions we get asked every month and give them to you with the answers. You'll become a knowledgeable expat in no time.
You can find our email on this page and use it to get help from our virtual assistant.
$10 Tier – Exclusive Content
In this tier, you get access to our exclusive content of 57 practical guides that help you set up and live your life in Thailand. We add new, exclusive content every month.
General
Accommodation
Fitness
Health
Money
Shipping
Travel
Visa
Work